Fiat 500 Topolino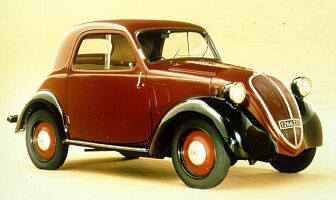 Launched in 1936, the new 'baby' Fiat, the 500, or 'Topolino' was the smallest mass-produced car of its time. With two seats, a 13bhp 569cc engine and a 2000mm wheelbase, it was designed to bring motoring to the masses. A conventional design (sectioned and chassis), with a longitudinal four-cylinder engine at the front and rear wheel drive, it was a great success, and the initial version remained in production until 1948, with over 110,000 being sold. After the first 46,000 cars the rear suspension was modified but few other changes were made.
In 1948 a revised car, the 500B was released. The body was virtually unchanged but the mechanicals received more attention. The engine got an extra 3.5bhp and the brakes, suspension and electrical equipment were improved. Some minor design changes also occured in the cockpit. Also in 1948 was presented an estate version, the 500 Giardiniera-Belvedere. This was able to carry four people in its longer steel/wood/plastic body. Around 21,000 500B's were produced until the following year (1949) when it was replaced.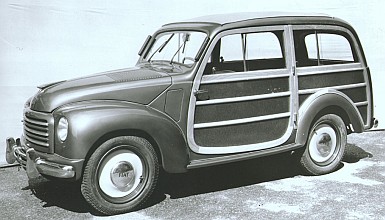 That year saw the arrival of the 500C at the Geneva Motorshow in March. This time the changes were mainly cosmetic, with a completely new front end. The engine also received an aluminium cylinder-head, but the output remained the same. It was also fitted with a heating system, using hot air from the radiator to clear the windscreen or heat the interior, the first Fiat with such a system.
An estate, now simply 'Giardiniera' was also available, and in 1952 a new version, the 'Belvedere' was launched. This was really just a Giardiniera without the wood, offering four seats and some luggage space with the same mechanicals. Production of the 500 ceased in 1955 when the 600 was launched. Some 376,370 examples of the 500C were built, bringing the total of 500s produced to 519,646.
The 500 formed the basis of many other cars made by the small Italian manufacturers of the day. For some of the many variations of this theme, by manufacturers such as Siata, Ermini, Stanguellini, Stanga and others, see the 'Other Marques' page.
---
Technical Details

Driveline
longitudinal engine at front with rear wheel drive
(sectioned and chassis)
Engine
569cc (52x67mm) in-line four cylinder
sidevalves in the original 500, overhead valves from the 500B (1948)
Suspension
front : independent with wishbones and single transverse leaf spring
rear : rigid axle with leaf springs
wheelbase : 2000mm
track (front/rear) 500 : 1114mm/1083mm
track (front/rear) 500B/C : 1116mm/1083mm
Brakes
drums all round
Gearbox
4 speed manual
Empty weight
500 : 535kg; 500B : 600kg; 500C : 610kg
---
---
Links
A Topolino website
---
For books on Fiats see our Online Bookstore
There is also a list of all our picture galleries (including museums, motorshows and various events).
Wallpapers/Desktop Backgrounds of numerous Fiats also available to download.
---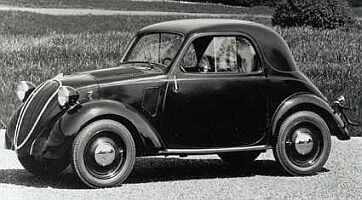 Use the buttons at the top to navigate further, or
---
Copyright © 2000 to 2008 CarsfromItaly