Presented for the first time at the 1954 Turin Motorshow, the Fiat Turbina was a one-off prototype for a sportscar powered by a gas turbine engine.
It was first studied several years earlier in 1948, the design being chosen in 1950. With the engines being defined in 1953 it first ran at Lingotto in April 1954. The body was a two seat coupé with some resemblance to the
8V
. Much attention was paid to the aerodynamics and an excellent coefficient of drag was supposedly achieved.
The engine itself used a two-stage compressor and a three-stage turbine. Of the latter, two drove the compressors whilst the third drove the rear wheels through a reuction gearbox.
The sole Turbina built can now be seen in the Biscaretti Museum in Turin.
---
Technical Details

Driveline
mid engine with rear wheel drive
Engine
gas turbine with 300bhp @ 22,000rpm
Suspension
front : Independent with double wishbones, coil springs and telescopic dampers
rear : independent with double wishbones, coil springs and telescopic dampers
wheelbase : 2400mm
track (front/rear) : 1296mm/1297mm
Brakes
drums all round
Gearbox
reduction
Empty weight
1050kg (full : 1270kg)

---

For books on Fiat see our Online Bookstore
There is also a list of all our picture galleries (including museums, motorshows and various events).
Wallpapers/Desktop Backgrounds of numerous Fiats also available to download.
---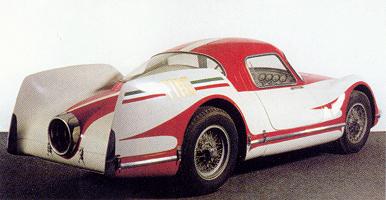 Use the buttons at the top to navigate further, or
---
Copyright © 2000 to 2008 CarsfromItaly