Fiat Ulysse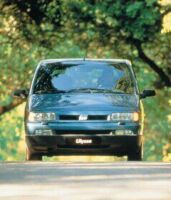 Developed jointly with Lancia (Zeta) and PSA, the Ulysse was the MPV or people carrier of the Fiat marque. It entered production in 1994 and was powered by a range of essentially PSA engines, two 8V 1998cc petrol units (normally aspirated with 121bhp and turbocharged with 147bhp) a 1905cc diesel (92bhp) and a 2088cc diesel (109bhp, later with 12 valves). The latter two engines were later replaced by a 1997cc JTD diesel with common rail and producing 109bhp, whilst a 1998cc 16V unit was also added. The Ulysse was built in France, at a factory near Lille operated by Sevel, the company jointly established by Fiat and PSA.
A relatively boxy design, it has been aerodynamically optimised to reduce the internal windnoise, whilst having a light interior due to the large glass area. The dashboard is also an interesting design, including a high mounted gearstick. It will seat either five, seven (see illustration below) or eight people depending on the specified option, whilst the two rearmost rows of seats can be removed to give a flat floor area for carrying bulky loads. There is also an option for swivelling front seats which, together with the table formed by the folding centre rear seat, means a comfortable 'room' can be created. A large sliding door is provided on each side of the rear which greatly eases entry to the rear seat rows, whilst passage from the front to the rear is also possible without opening the doors thanks to the dash mounted gearshift.
Air conditioning (or optional climate control) includes outlets in the rear compartment via underfloor ducts, and a double sunroof can also be specified. Mechanically the Ulysse is conventional, with McPherson struts at the front and a trailing beam at the rear. Other features include ABS (standard on some models), power steering, twin airbags, side impact bars and a host of other details designed for both safety and comfort.
The 2002 Geneva motorshow saw the all new Ulysse released.
| | |
| --- | --- |
| | |
---
Technical Details

Driveline
transverse engine at front with front wheel drive
Suspension
front : MacPherson strut with telescopic dampers and coil springs plus anti-roll bar
rear : torsion beam with telescopic dampers and coil springs plus panhard rod
wheelbase : 2824mm
front track : 1534mm
rear track : 1540mm
Brakes
front : discs, ventilated, diameter 281mm
rear : drums, diameter 255mm (turbo and 2000 16V have 295mm discs)
handbrake operating on the rear via a cable
ABS standard/optional
Gearbox
5 speed manual
Steering
Rack and pinion with power assist
Kerb Weight
1510kg (2000 8V), 1555kg (2000 16V)
1567kg (1900 diesel), 1615kg (2100 diesel)
---
---
Tuning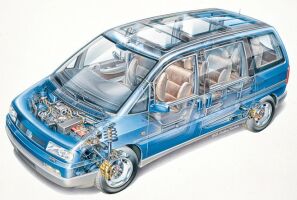 Not the most popular vehicle to modify, off-the shelf parts are hard to come by. Also, being mainly PSA mechanicals, the Fiat parts bin cannot be so easily raided, and it may be necessary to look at PSA parts.
Nevertheless, easily carried out modifications include installation of a free-flow air filter (a cold air duct is also a worthy mod) and fitment of a less restrictive exhaust system to improve the driveability, 'Chips' are also available which (claim to) increase the power, driveability and torque all at the same time.
The brakes can be improved by fitting drilled and grooved discs, using a superior pad compound and fitting stainless steel braided flexible hoses.
---
For books on Fiat see our Online Bookstore
There is also a list of all our picture galleries (including museums, motorshows and various events).
Wallpapers/Desktop Backgrounds of numerous Fiats also available to download.
---
Ulysse comment form
---
Your Comments
I've just bought a Ulysse 2.00 EL 16V - not without misgivings because of the way it's been slagged off in the press and by JD Power. It is brilliant and far better than any of my last 4 MPV's - 2 Espace & 2 Galaxy Although it does look like a van, it drives very well and the interior is the most functional and comfortable I've experienced. It's fast for what it is and surprisingly economical. The only thing bothering me is why I was able to buy it so cheaply (John R.)
That's a really beautiful MPV, it's interior is really great and the dash board is exellent, the 2.0 16v is and exelent engine for the job. (Rafael, El Salvador)
---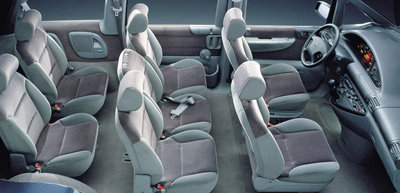 Use the buttons at the top to navigate further, or
---
Copyright © 2000 to 2008 CarsfromItaly