Lancia Ardea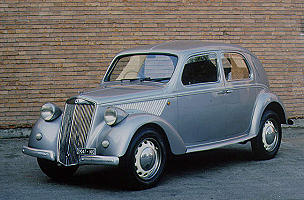 The Ardea was introduced in 1939 as a new 'luxury' utility model, following the style of the bigger Aprilia. The external design was very similar to its bigger brother, as was the V4 concept for the engine, whilst the technical solutions were rather simpler, especially the rear suspension and the lack of an openable boot for luggage. Conflict halted production, which was restarted in 1945. Second series cars introduced a 12V (rather than the 6V of the earlier model) electrical system, whilst the third series, produced from 1948, used a five-speed gearbox. The fourth series saw the use of aluminium alloy for the cylinder head and an increase in power to 30bhp.
Despite the lack of a commercially available chassis for the coachbuilders (one was developed but never put into production) a few variants of the Ardea were built by Zagato and Pinin Farina amongst others.
The Ardea was also built in commercial variants, a taxi, a small truck (camioncino) and a van (furgoncino). Manufacture continued up until 1953 when it was replaced by the Appia. A total of around 22,000 vehicles were produced.
---
Technical Details

Driveline
longitudinal engine at front with rear wheel drive
Engine
903cc (65x68mm) sohc 20° V4 with 28,8bhp @ 4,600rpm (later 30bhp)
Suspension
front : Sliding pillar
rear : live axle with leaf springs
wheelbase : 2440mm (Taxi : 2950mm)(Furgoncino & Camioncino : 2500mm)
front track : 1162mm (Taxi, Furgoncino & Camioncino : 1286mm)
rear track : 1180mm (Taxi : 1280mm)(Furgoncino & Camioncino : 1320mm)
Brakes
hydraulically operated drums on all four wheels
Gearbox
4 speed manual (later 5 speed)
Steering
Worm and sector
Kerb weight
series I : 780kg
---
---
Identification
The berlina's were all Tipo 250, the Taxi was Tipo 450, the Furgoncino Tipo 550 and the Camioncino Tipo 650. The chassis intended to be made available to the carrozzeria was the Tipo 350.
---
For books on Lancia see our Online Bookstore
There is also a list of all our picture galleries (including museums, motorshows and various events).
Wallpapers/Desktop Backgrounds of numerous Lancia's are available to download.
---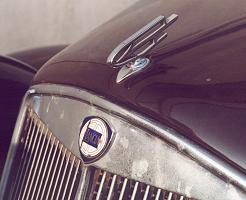 Use the buttons at the top to navigate further, or
---
Copyright © 2000 to 2008 CarsfromItaly