Lancia Delta (1993+)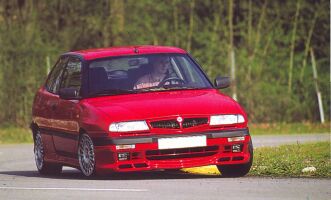 In 1993 Lancia introduced the replacement for the Delta, the Delta. Although the name remained the same, it was a completely new car, based on the floorpan and suspension of the Dedra and designed by the IDEA studio. With much improved aerodynamics, safety and comfort the New Delta was a significantly improved offering, but somehow never caught on in the way that its predecessor had done. Engines offered from launch were a 1581cc sohc (76bhp), a 1756cc dohc (105bhp), a 1995cc 16V dohc (142bhp)and a turbocharged version of the same engine with 190bhp (called the HF). Later came the 1929cc turbo diesel engine.
Originally only available with five doors, three became available in 1995, with the introduction of the so-called Delta HPE. The engines were the same as the five door models.
The engines were revised in 1996 with the introduction of two 1.8 litre (1747cc) engines, one with and one without variable valve timing, the former replacing the normally aspirated 2000 engine which was discontinued. Some minor design changes, both inside and out, were also made.
Production ceased in the latter half of 1999.
The name was reborn again in 2008
---
Technical Details

Driveline
transverse engine at front with front wheel drive
Engines
Early :
1581cc four cylinder dohc 8V with 76bhp @ 6000rpm
1756cc four cylinder dohc 8V with 105bhp @ 6000rpm
1995cc four cylinder dohc 16V with 142bhp @ 6000rpm
1995cc four cylinder turbocharged dohc 16V with 190bhp @ 5750rpm
Later :
1747cc four cylinder dohc 16V with VVT and 130bhp @ 6300rpm
1581cc four cylinder dohc 16V with 103bhp @ 5750bhp
1929cc four cylinder diesel sohc with 90bhp @ 4100rpm
1995cc four cylinder turbocharged dohc 16V with 193bhp @ 5500rpm (+ intercooler & overboost)
Suspension
front : MacPherson strut with telescopic dampers and coil springs plus anti-roll bar
rear : independent with telescopic dampers and coil springs plus anti-roll bar
wheelbase : 2540mm
track (front/rear)
1.6 & 1.8 VVT : 1439mm/1415mm
1.9 tds : 1475mm/1415mm
2.0 turbo : 1486mm/1415mm
Brakes
front : discs, diameter 257mm (ventilated on all except 1.6) (284mm ventilated on turbo)
rear : discs, diameter 240mm (180mm drums on 1.6)
handbrake operating the rear callipers via cable
dual hydraulic circuit with servo assistance
Gearbox
5 speed manual
3 speed automatic
Steering
Rack and pinion with power assistance
Kerb weight
1.6 : 1130kg; 1.8 VVT : 1200kg; 1.9 tds : 1280kg; 2.0 turbo : 1330kg
---
Performance

| | | | |
| --- | --- | --- | --- |
| model | max speed | 0-100km/h | standing km |
| 1.6 | 190 km/h | 11 sec | 32 sec |
| 1.8 VVT | 200 km/h | 9.4 sec | 30.7 sec |
| 1.9 tds | 180 km/h | 12 sec | 34.0 sec |
| 2.0 turbo | 225 km/h | 7.5 sec | 28 sec |
---
---
Tuning

Easily carried out modifications include installation of a free-flow air filter (a cold air duct is also a worthy mod) and fitment of a less restrictive exhaust system to improve the driveability, 'Chips' are also available which (claim to) increase the power, driveability and torque all at the same time.
The brakes can be improved by fitting drilled and grooved discs, using a superior pad compound and fitting stainless steel braided flexible hoses.
Dampers and springs are readily available for the Delta which will improve the handling, and a strut brace can be fitted at the front to increase the stiffness of the bodyshell.
---
Delta comment form
---
Your Comments
The car is ok, but needs high revs. Great for long distance driving on good roads. Had problems with the silencerblocks when the car was 4 years old, which doesn´t seem normal. Some electrical problems.......... (Twix)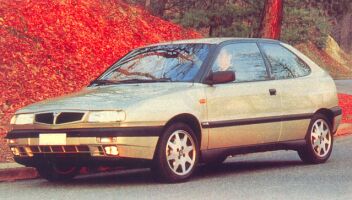 Somedays I wonder what part of the car hasn't broken yet and then it reminds me wich part it is by breaking down.
After only ten months with a brand new car I can't say I'm very pleased...........(Wim, HPE tds, Belgium)
I've got some information on the new Delta, 1.9TD. I own a 1995 model with 215.000km on the clock. So far I had no problems what so ever, maybe due to my car-filosophy: If you're good for your car, she will be good to you too!.
The powerfull 1.9 Turbodiesel engine can go on for ever. I've seen one with over 450.000 km, with all orinal parts! (expect for the cam-belt ofcourse). She can do this for you too, when you keep four rules in mind:
FIRST:
Main thing is to to the garage every 10.000 km for checkup and oil change.
In between you should check the oil level regually. Running low on oil is lethal for your engine. Every 20.000 km also change oil-filter and air-filter. Change cam-belt every 80.000 km, not later!! Brakes when needed.
SECOND:
You've got to keep this rule in mind: NEVER let the engine go over 3000 rmp when it's cold. I usually keep it under 2500 rmp till it's warm. The engine is partly made of lightweight materials, witch just don't like huge temp differences. Don't forget that most models only indicate water temp. and NOT the real engine temp, being the oil temperature. It takes a minute or 15 for the enige to get to working temp. But when she's hot, let her go all the way and feel the turbo-boost coming in at 2500 rmp till over 4500 rmp.
THIRD:
When you end your trip and have stopped the car, allways let the engine run for about 20 seconds before you turn it off. Specially when you've been driving it in high revs. This will allow the turbo to stop turning. Turing the engine off abruptly can cause the turbo to break. Stopping the engine will take the oil-pressure off. While the turbo wheel is still turing at very high speeds, you can imaginge what happens to it when the oil is gone!
FOURTH: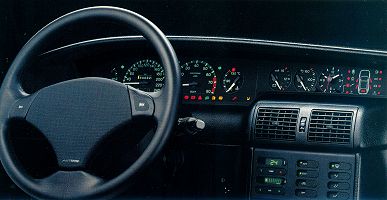 se the clutch wisely. Always press the clutch to the bottom, before changing gears. When the car is cold, again, handle her with care. Don't change gears with force, but try a second time when it is going a bit difficult.
When you're a wise driver and just keep these 4 simple rules in mind, you're gonna have a lotta fun with the car!
Try to make a 90 degree turn while driving 75km/hour.You'll love the way the car behaves! No matter how hard you will try, the rear never brakes out. The car will simply glide through the corners. (new tyres every 20.000km ;-) Change gears at 3500 rpm and you'll fly over the roads.... Have fun! (Rutger K, Holland)
I own a HPE HF 2.0 Turbo (same as on the top of the site only in black) and I am very impressed by the power and the elegance of this car. The feeling after 3500 rpm (when the turbo begins to boost) is really exciting. At this time its better to hold the steer-wheel with both hands...
Another thing to love on this car are the seats. The Recaro-Seats have a perfect hold and won't cause you pains, even on longer distances...
There are only two negative points which I want to mention. The noise inside the car from 120 km/h upward is to loud, therefore Ii recommend you a good sound system. The Brakes are good, but loose power when they get hot for example if you drive a longer period at high velocity (I was unsatisfied on my trip to Germany!!).
In the end I only can confirm the car-filosophy of Rutger K. - Be good to the car and the car will be good to you. Same rules as he discribed on the turbo-diesel.(Maurizio, Switzerland)
When you buy a Delta, you know you're gonna haven some problems (after all it's Italian). But, it's a small price to pay. It's got style and class, even though it' quite small, or so it seems on the outside. I've had some problems with my 1995 1.6 Delta, but I still like it a lot. The only thing really bothering me is the amount of fuel i put into it: 11l/100km.(Filip, Belgium)
I have a 1997 delta, 1800 cc VVT 130 hp, it is really a great car, powerful engine, nice handling and reasonable cost and elegant looks. the best i ever had. I'm looking frwd for the new delta. ........... (Omar, Amman, Jordan)
---
For books on Lancia see our Online Bookstore
There is also a list of all our picture galleries (including museums, motorshows and various events).
Wallpapers/Desktop Backgrounds of numerous Lancia's are available to download.
See also our Lancia advertisements gallery, where several adverts can be seen.
---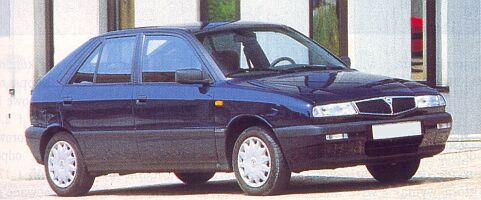 Use the buttons at the top to navigate further, or
---
Copyright © 2000 to 2011 CarsfromItaly