Lancia Delta (2008+)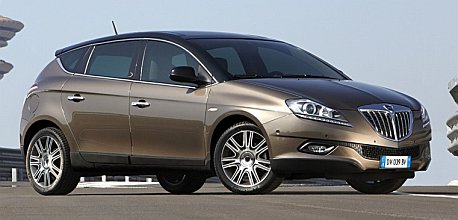 The Geneva Motorshow in 2007 saw the long awaited revealing of the new Lancia Delta. Many years after the highly successful original Delta and its slightly less successful successor (the then New Delta), the new car represented a major step forward for Lancia, being the first significant new product for many years.
Based on the platform of the Fiat Bravo, this has been stretched to provide a roomier, more luxurious interior, both in keeping with the current Lancia brand positioning, and to differentiate it from its sister car. The mechanical layout is also an evolution of the sister cars', although the Lancia has some engines and other technology which is not available in the Fiat. The basic layout follows the tried and tested transversely mounted engine at the front driving the front wheels, and only one bodystyle, a five door hatchback, is produced.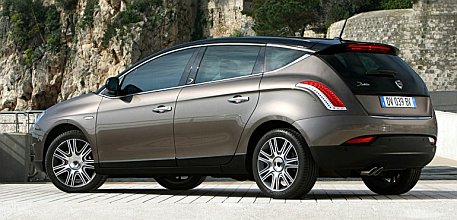 Designed by the Lancia Style Centre, the new Delta carries forward traditional stying elements from some of the most classic Lancia cars of the past, whilst also introducing the latest technology such as LED lighting. The slightly unconventional styling can be further highlighted by two-tone paint schemes which are available as an option. The Delta is 4.5 metres long, 1.8 metres wide and 1.5 metres high, measurements that combine with a wheelbase of 2.7 metres to guarantee an extraordinary amount of roominess for this category.
The interior is quiet and full of light, furnished with luxury materials and harmonious colours, and guarantees unbeatable travelling comfort. The sound-absorbing headlining keeps noise to a minimum and luminosity is guaranteed by the extensive glazing of the side windows and the GranLuce sunroof, when it is fitted. A sliding rear seat with reclining squab turns the passenger and luggage compartments into a highly versatile space. As with Lancia tradition, a wide range of leather, Alcantara and other materials are available to personalise the interior.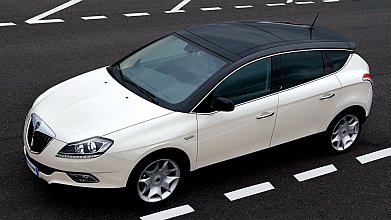 The new Delta offers a high level of technology in terms of entertainment, exemplified by a Bose Hi-Fi radio incorporating a CD player and MP3 file reader with steering-wheel mounted controls and the Blue&MeŽ system developed with Microsoft (hands free phone use plus USB input). As would be expected in this segment, there is also available an integrated satnav system, developed with Magneti Marelli.
Technically, the Delta was powered (at launch) by a range of petrol and diesel engines, all turbocharged, and fitted with manual and automatic transmissions. the entry level petrol is a 1.4 16v turbo unit with 120bhp, then there is a 150bhp version of the same engine and finally a 200bhp 1.8 16v turbo unit. The diesels are a 1.6 MultiJet with 120bhp, a 2.0 MultiJet with 165bhp and a 1.9 TwinTurbo MultiJet with 190bhp.
The 120 and 150bhp petrol engines come with 6-speed manual transmissions whilst the 200bhp unit comes with a fully automatic transmission (by Aisin) only. The diesels, meanwhile both have 6-speed transmissions, whilst on the 120bhp unit there is also available a 6-speed robotised transmission (manual gearbox with automated clutch and no clutch pedal).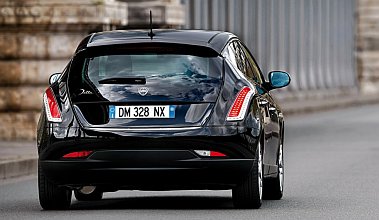 Technology continues into the electronics, with an advanced ESP system known as 'Absolute handling System', DST (Drive Steering Torque which provides feedback through the steering wheel to help the driver correct errors), TTC (Torque Transfer Control which simulates the behaviour of a limited slip differential), an electronic parking system called 'Magic Parking' (the car steers itself into a parking space), a 'Driving Advisor' which warns of inadvertent lane changing and an electronically adjustable variable damping system for the suspension.
In October 2009 the Delta gained a new dualfuel powerplant, designed to take advantage of the various 'environmental' incentives which were put in place by different governments. this was a 1.4 16v turbocharged unit with 120bhp which runs on petrol or LPG. Known as 'ECOCHIC' this version of the Delta added an LPG tank in the spare wheel well, with a capacity of 52 litres. 2010 saw the introduction of a new version, the 'Hard Black', basically featuring a new matt black paint finish, various black interior trimmings and some new alloy wheels. This was available only with the most powerful petrol (200bhp) and diesel (190bhp) engines. Later in 2010 another new engine became available, the 140bhp 1.4 16v turbo MultiAir unit. A further development of the ubiquitous 1.4 FIRE engine, this features the advanced MultiAir variable valve technology. Around the same time, the 120bhp unit became Euro5 compliant, and the 150bhp unit was discontinued.
See videos of the Delta, static & interior (6MB) and driving (5MB).
---
| | |
| --- | --- |
| | |
---
Technical Details

Driveline
transverse engine at front with front wheel drive
Engines
1368cc (72x84mm) 16v dohc 4 cylinder inline with 120bhp @ 5,000rpm and 206Nm @ 1,750rpm
1368cc (72x84mm) 16v dohc 4 cylinder inline with 150bhp @ 5,500rpm and 206Nm @ 2,250rpm
1368cc (72x84mm) 16v dohc MultiAir 4 cylinder inline with 140bhp @ 5,000rpm and 230Nm @ 1,750rpm
1742cc (83x80.5mm) 16v dohc 4 cylinder inline with 200bhp @ 5,000rpm and 320Nm @ 1,400rpm
1598cc (79.5x80.5mm) 16v dohc 4 cylinder turbocharged diesel with 120bhp @ 4,000rpm and 300Nm @ 1,500rpm
1910cc (82x90.4mm) 16v dohc 4 cylinder twin-turbocharged diesel with 190bhp @ 4,000rpm and 400Nm @ 2,000rpm
Suspension
front : MacPherson strut
rear : Torsion beam
optional electronically adjustable damping system
wheelbase : 2700mm
track (front/rear) : 1538mm/1531mm
Brakes
front : discs (diameter 284mm, 305mm with 165/190bhp, 330mm with 200bhp)
rear : discs (diameter 251mm, 278mm with 200bhp)
handbrake operating on the rear via a cable
ABS
Gearbox
6 speed manual, fully-automatic (by Aisin) and semi-automatic robotised (6-speed)
Steering
Rack and Pinion with electric power assistance
Weights (kerb)
120bhp petrol & 140bhp : 1320kg
120bhp ds : 1410kg
165bhp/190bhp/200bhp : 1430kg
Dimensions
Length / Width / Height : 4520mm / 1797mm / 1499mm
---
---
Performance

| | | | | |
| --- | --- | --- | --- | --- |
| model | max speed | 0-100km/h | combined fuel cons | CO2 |
| 1.4 Turbo 120bhp | 195 km/h | 9.8 sec | 6.6 l/100km | 156 g/km |
| 1.4 Turbo 150bhp | 210 km/h | 8.7 sec | 7.0 l/100km | 165 g/km |
| 1.4 MultiAir 140bhp | 203 km/h | 9.2 sec | 5.7 l/100km | 132 g/km |
| 1.8 Turbo 200bhp | 230 km/h | 7.4 sec | 7.8 l/100km | 185 g/km |
| 1.6 MultiJet 120bhp | 194 km/h | 10.7 sec | 4.9 l/100km | 130 g/km |
| 2.0 MultiJet 165bhp | 214 km/h | 8.5 sec | 5.3 l/100km | 139 g/km |
| 1.9 TwinTurbo MultiJet 190bhp | 222 km/h | 7.9 sec | 5.7 l/100km | 149 g/km |
---
For books on Lancia see our Online Bookstore
There is also a list of all our picture galleries (including museums, motorshows and various events).
Wallpapers/Desktop Backgrounds of numerous Lancias also available to download.
---
Delta comment form
---
Your Comments
Send us your comments to add here.
---
Use the buttons at the top to navigate further, or
---
Copyright © 2000 to 2011 CarsfromItaly