Cisitalia
Cisitalia (the name comes from Consorzio Industriale Sportive Italia) was founded at Turin in 1946 by Piero Dusio, an ex-footballer who had become a rich industrialist through the success of his own firm, CISI (textiles, banks, sports goods, hotels).
He was an amateur race driver in the 1930s (driving Alfa Romeos) who decided to build his own cars after the Second World War. His idea was to create a race series using his to be cheap single seaters, with mainly Fiat parts (1100 engine and 500 suspension).
Ex-Fiat personnel were employed - Giacosa and Savonuzzi for engineering, Taruffi to manage the team and later Porsche and von Eberhorst for further technical work. The result was the D46, later forming the basis for the 202 road car.
Later Cisitalia went on to develop a mid-engined, four wheel drive formula one car, designed by Ferry Porsche. This used a 1.5-litre flat-12 supercharged engine with 450bhp ! This project, along with others including a large five seater car and a tractor, ultimately caused the financial downfall of the company, which entered receivership in 1949. It continued to produce and develop cars until about 1952.
The Formula One project was separated from the rest of the company and transferred to Argentina where it continued development for some time under the name of Societa Autocar.
---
D46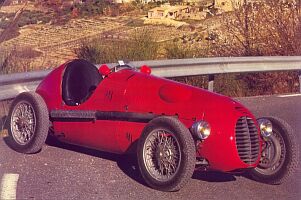 1946 saw the first car, the D46 completed. Designed by Giacosa it used a Fiat 1090cc engine with 65bhp, a tubular chassis and a three-speed semi-automatic transmission, the latter also designed by Giacosa. Aluminium drum brakes were fitted to all four wheels. The bodywork was in aluminium and made by Motto. With a wheelbase of 2008mm and tracks of 1220mm/1120mm (front/rear) it had a total weight of 350kg. Such a light weight enabled the D46 to reach over 170km/h.
This won its first race at Turin in Spetember 1946 (and also came second, third and fifth), and some backing was found for a one make series. This, however, did not last long before collapsing. Despite this several cars were sold and used by a variety of people in racing. About 40 cars built during 1946 and 47.
---
202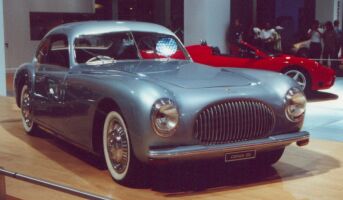 The 202 was a coupe based on the D46 racecar spaceframe chassis. Suspension was basically Fiat 1100 parts, with a transverse leaf spring and lower wishbones at the front, with a live axle and longitudinal leaf springs at the rear. The engine was still the 1100 (1089cc) unit, but with various modifications (including two twin Webers and help from Carlo Abarth) it produced 60bhp. Combined with a kerb weight of around 760kg the car was endowed with good performance. The body, a two seater coupe, was originally designed by Pinin Farina. It was reworked by Vignale (with only small detail changes being made such as a single piece windscreen, revised grille and larger bumpers) who then produced the production bodies.
Released to the world at the Italian Grand Prix in 1947, it immediately gained much admiration for its styling - including being displayed in the New York Museum of Modern Art.
1947 also saw the 202 MM (Mille Miglia) released. Designed by Vignale at Stabilimento Farina, it was a competition version of the standard car and led the Mille Miglia in that year (driven by Nuvolari) until problems forced him into second place (behind an 8C2900 Alfa Romeo !). Visually identifiable by having two small 'aeroscreens' and fins on the rear wings. It was popularly known as the 202 MM 'Nuvolari' after his Mille Miglia drive.
Spider variants were also made, designed by Vignale and called the 202SC they were built by various carozzeria with small detail differences. The coupe was known as the Gran Sport and was built from 1947 to 1952. Production was around 153 cars.
Click on the images below for a larger version.
Technical Details

Engine
1089cc (68x75mm) in-line four with 60bhp@5500rpm
Suspension
front : independent with lower wishbones, transverse leaf spring and telescopic dampers
rear : live axle with leaf springs
wheelbase : 2400mm
track (front/rear) : 1258mm/1247mm
Brakes
drums all round
Transmission
4 speed manual
Steering
worm and roller
Empty weight
765kg
---
202D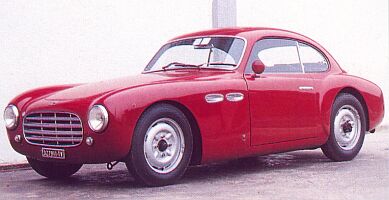 The last GT cars built by Cisitalia, only five examples of the 202D were built between 1952 and 1955. Developed by Savonuzzi the first example was a coupe constructed in aluminium by Stabilimenti Farina. It was powered by a 2772cc in-line four cylinder BPM engine, derived from their maritime motors and produced 160bhp @ 5,300rpm. The front suspension was independent whilst the rear used a modified Lancia Aurelia B20 GT de Dion setup. For the Mille Miglia that year a competition version was produced, with two twin carburettors, 180bhp and various other changes such as no bumpers. The wheelbase was 2,450mm whilst the empty weight was 850kg. A four speed gearbox was fitted, as were disc brakes on all four wheels. It was going well until the clutch disc gave way and Dusio (who was driving) was forced to retire.
The new car was first shown at the 1952 Geneva Motorshow and in total three coupes and two spiders were built, powered by BPM engines of either 2.8 or 2-litres. Each example has minor detail differences from the others, two are known to be still in existence.
---
The Cisitalia 202 featured heavily in the 1947 Mille Miglia (finishing second, third and fourth), below are two images from that race.

---
303 DF
Built from 1951 to 1953, still using the 1089cc engine.

---
The last cars
Following the 202D Cisitalia went down the same route as many other small manufacturers and began building cars based more completely on Fiat mechanicals. These included a 1900 based coupé and a 70bhp version of the Fiat 1100. Around 100 were built of the latter, as well as a Volvo engined variant. From 1961 to 1965 the last model, the Coupé Tourism Special rolled off the production line in small numbers. This was basically a rebodied Fiat 600 fitted with 750cc and 850cc engines.
---
---
For more pictures of various Cisitalia cars, see our Trofeo Lumezzane, Mille Miglia 2001 and Mille Miglia 2002 picture galleries.
---

If you know of any relevant websites please send them in.
---
Cisitalia comment form
---
Your Comments
If you have one of these rare cars, please send us your comments....
---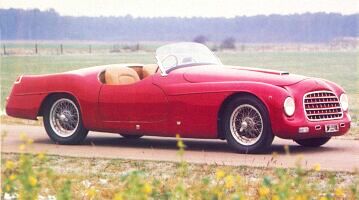 Use the buttons at the top to navigate further, or
---
Copyright © 2000 to 2008 CarsfromItaly