SCAT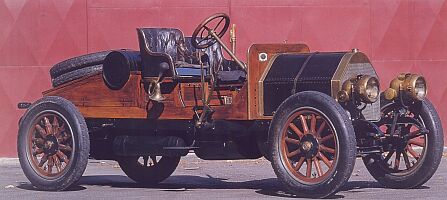 SCAT (Societa Ceirano Automobili Torino) was formed by Giovanni Ceirano at Turin in July 1906, leaving his previous company behind (Junior Fabbrica Torinese Automobili). The company started big, with 150 workers and producing over 100 cars per year. Expansion followed, and a new plant with 600 workers was opened in 1914.
Due to personal losses, Giovanni left the company in 1917 and a French investment group (controlled by Hispano-Suiza) took ownership. The latter used the SCAT factory to produce aircraft engines for some time. After the war Giovanni Ceirano had formed another company (Ceirano SA) and in time managed to take control of SCAT again, merging his other company into it in 1923.
There followed the launch of the Tipo 50, or 'Ceiranina' which formed the basis of production until the late 1920's when financial problems surfaced. This resulted in SCAT being absorbed into the Fiat Group in 1929. Production of the old models continued for some time until in 1932 the company was merged into SPA.
Victories in the 1911 and 1912 Targa Florio's were the pinnacle of their involvement in motorsport.

---
If you know of any links relevant to SCAT please send them in. Thanks.
---
Comment form
---
Use the buttons at the top to navigate further, or
---
Copyright © 2000 to 2008 CarsfromItaly