SPA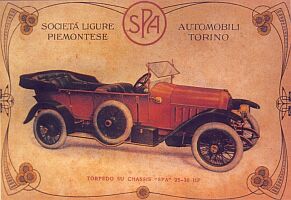 Founded by Michele Ansaldi (an industrialist who had been part of a joint-venture with Fiat) and Matteo Ceirano (from Itala) in Turin in May 1906, the 'Societa Piemontese Automobile' started big, already with 300 workers in 1907. They produced touring cars with four and six cylinder engines which quickly became well known and respected, but it was not enough to stave off the financial problems.
In 1909 they 'merged' with FLAG, the owner of which (Cesare Gamba, head of a group of wealthy investors) took control of the majority of the resulting company, 'Societa Ligure-Piemontese Automobili' (but remaining SPA for short). The administration offices moved to the old FLAG offices at Genova, whilst the engineering and factory remained in Turin.
Involvement in motorsport included victory in the Targa Florio whilst later production was extended to include aircraft engines, a convenient sideline during the war. Commercial vehicles also occupied the production lines during the conflict. Following the war the company changed hands (passing to another group of investors), the headquarters returned to Turin (in February 1923) and the company blossomed. The Tipo 23 (4 cylinder, 2724cc) in normal and sport versions, the Tipo 24 and Tipo 25 (4398cc) were all launched in the golden years of SPA.
However, the owners also owned Ansaldo and when the latter began to suffer financial problems they withdrew from the automotive business. SPA passed to Fiat in 1926 who immediately ceased car production, continuing truck production until into the 1940's. The company ceased to exist in 1947, although the badge was used until 1949.
---
Tipo 24
One of the most famous cars from SPA was the Tipo 24. Presented for the first time in 1921 it was a luxurious vehicle using the latest technology.
The engine was the most notable part of the car, a 4426cc (85mmx130mm) in-line six-cylinder. As well as the alloy block it had four valves per cylinder, two spark plugs per cylinder and double overhead camshafts. The carburettor was also by SPA (later a Zenith unit was used) and Brakes were provided an all four wheels. The bare chassis weighed 1400kg with a wheelbase of 3735mm and a track of 1450mm.
The car was produced in two versions, 'Normal' (110km/h) and 'Sport' (135km/h) and was fitted with various bodystyles including torpedo (four or six-seats), Coupé de Ville, Cabriolet de Ville and Bateau.
---
If you know of any links relevant to SPA please send them in. Thanks.
---
Comment form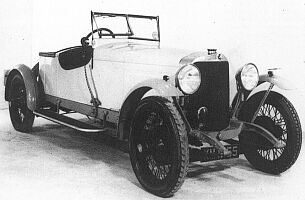 ---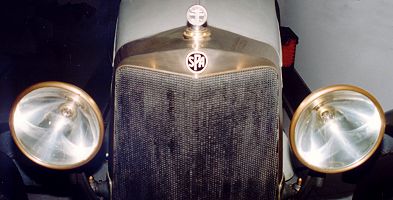 Use the buttons at the top to navigate further, or
---
Copyright © 2000 to 2008 CarsfromItaly