Vignale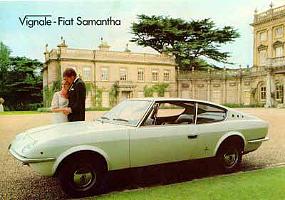 Vignale was founded in 1946 by Alfredo Vignale (born 1913, first worked for Stabilimento Farina) as a small workshop in Turin. His first car body emerged in 1948, for a Fiat 500 and continued with a Fiat 1100 in 1949. They went on to build both one-offs for individual customers and limited production runs of models based on series production cars.
The early 1950's saw many competition cars bodied by Vignale, including several Mille Miglia competing Ferrari's. There followed Cisitalia, whilst the beginning of collaboration with Michelotti saw the flowering of the company with the design and construction of, amongst others, many more Ferraris (around 140 in total). Maserati was another major customer for the company, but the decline set in later as their designs lost their flair.
In 1963 Vignale were producing around 40 cars per day from their 39,000 sq m factory site at Grugliasco, near Turin.
Most of the production models sold with the Vignale badge used production Fiats as the basis, some of which are detailed below.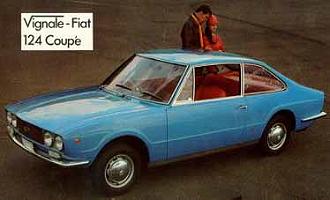 Vignale was also used by the bigger manufacturers both to design and build cars, usually low volume variants of their main production cars. These were mainly for Alfa Romeo, Fiat, Lancia and Ferrari (plus some non-Italian manufacturers).
Vignale was taken over by Ghia in 1969 under whose control it continued to exist until 1974.
This page aims to cover those models which were sold as Vignale's (plus their prototypes and one-off concept cars), as opposed to the cars produced for and sold by other companies. See our various marque pages for details of production cars.
---
500 Gamine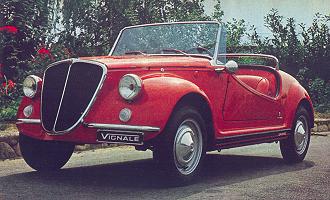 Built between 1967 and 1974 in very low volumes, the 500 Gamine was based on a Fiat 500F. A spider coachwork by Vignale, released late in 1967, the Gamine uses the complete 500 floorpan (1840mm wheelbase, with additional strengthening) and the same two cylinder 499.5cc engine with 22bhp. A slightly reduced weight (488kg) combined with the exposed seating gives the impression of greater speeds than the saloon. A canvas soft-top was available as an option from 1968, and a plastic hard top was also manufactured for some time. Seating is strictly for two, and the luggage space is virtually non-existent, the space under the bonnet being occupied by the spare wheel and fuel tank. A total of two to three hundred examples were built.

---
Fiat 600 based cars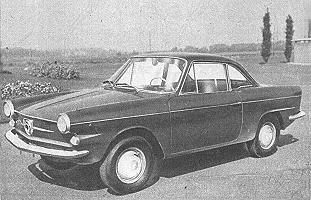 The 600 based coupe (right) and spider were really the cars which made the name of Vignale famous with the Italian public. Clothing the standard Fiat mechanicals in all-new pretty bodies, these cars provided a more desireable product at a modest price.
More unusual offerings using the 600 mechanicals were the 600D Record, an aerodynamic coupé (below right) and the 600T (below left). The Record was designed (as it's name suggests) for record attempts. It was first presented at Turin in 1962, pictured below right is the slightly modified form as seen in 1963. The 600T, a type of beach car, was also presented at the latter show.
---
Fiat 1300/1500 based cars
| | |
| --- | --- |
| During the first half of the 1960's, Vignale produced a variety of Fiat 1300 and 1500 based coupés. Three general bodystyles were made, a berlina-like three-volume two-door (below left), a more sporting looking three-volume version and a fastback model (several versions made, right and below right). All cars shared the same mechanicals and floorpan and came with a fake leather interior, remote fuel filler flap release, electric windows and a revcounter (amongst other things). Click here for more pictures. | |
---
Fiat 850 based cars
Vignale made a variety of cars based on the 850 floorpan and mechanicals, including a 4/5-seat berlina (below left), a 2+2 coupé (below centre) and a 2+2 spider (below right). All three cars shared the standard 850 wheelbase and also came with a fake leather interior, 'door-open' lights mounted on the doors and a central tunnel with a 'loose-object' tray and a cigarette holder. All were also available in 'Lusso Export' specification which added a cigarette lighter, metallic paint, electric windows, a wooden steering wheel, chromed gearchange and handbrake levers and an electronic revcounter !
Vignale also produced a very pretty aerodynamic 850 coupé.

---
Fiat 124 based cars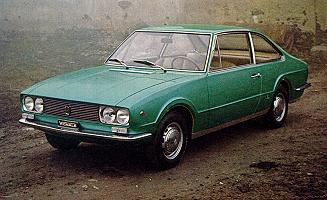 Another two door coupe with electric windows, this time based on the Fiat 124 and fitted with the 1197cc engine (65bhp) and a four speed gearbox. Still with a fake leather interior, electric windows and 'door-open' lights on the doors.........





---
Fiat 125 based cars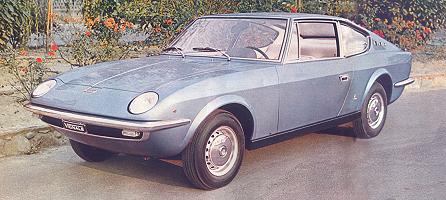 The Samantha was a Fiat 125 based 2 door coupe with pop-up headlights and electric windows, built around the end of the 1960's. Series production was undertaken, although numbers are unknown. Power came from the 1608cc Fiat dohc engine, with 90bhp. With it's four speed gearbox the Samantha could reach 100mph.



---
Other (non-Fiat) based cars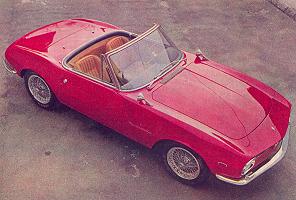 As mentioned in the introduction, Vignale worked with many different manufacturers. Amongst their non mass-produced cars were a Ferrari 330GT based estate car comissioned by the US importer in 1968 and a two-seat Maserati 3500GTI based spider (right and here ) also in 1963. Earlier, in 1952, they built a Lancia Aurelia based coupé.




---
Links
An excellent Vignale website
A Gamine website
Another Vignale website
A French site covering Fiat 850 based cars by Vignale
If you know of any other relevant websites please send them in.

---

---
Vignale comment form
---
Your Comments
If you have one of these rare cars, please send us your comments....
---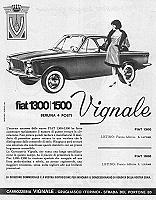 Use the buttons at the top to navigate further, or
---
Copyright © 2000 to 2008 CarsfromItaly