Fiat 500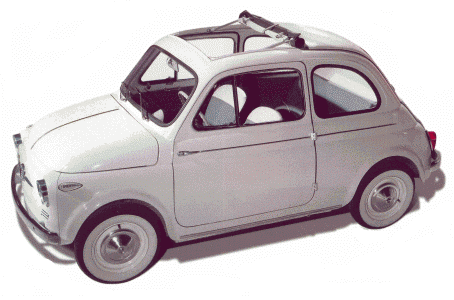 Introduced in July 1957, the successor for the 'Topolino', the 'nuova 500' (Fiat project number 110) used a layout similar to that seen on the 600 with a rear mounted engine drivng the rear wheels and independent supension on all four wheels. A first for Fiat was the air-cooling of the engine, a two cylinder 479cc unit with 13bhp. Ths was coupled to a four speed manual gearbox with a floor mounted shift. Wih initial sales much slower than Fiat had expected, later in 1957 (at the Turin Motorshow) they at introduced two versions, the 'Economica' and the 'Normale', both with an engine giving 15bhp. The 'Economica' was effectively the same as the original version (except for the more powerful engine) but at a reduced price, whilst the 'Normale' had the revised engine plus various other small changes, such as opening door windows, a 'proper' rear seat, etc.
The following year, 1958, saw the introduction of the 'Sport'. After finishing first, second, third and fourth in class at the Hockenheim 12hour race, Fiat began sales of the car. It was fitted with a development of the original engine which, enlarged to 499.5cc and with a revised camshaft, valves, cylinder head and fuelling, managed to produce 21.5bhp. As well as a red stripe down each side of the car, it also had a solid roof, unlike the normal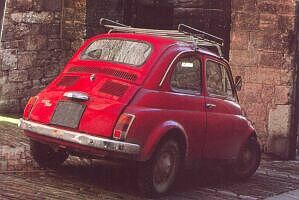 production cars which had canvas roll-back items. The Sport gained this latter feature in 1959.
The next major version to be released was the 'Giardiniera'. Introduced in 1960, this was an estate version, with a stretched wheelbase and a horizontally mounted engine. Later in the year the 500D was released. This brought the 499.5cc engine into general useage (rather than just in the Sport, which was discontinued) with a power output of 17.5bhp. A few other detail changes (such as a revised fuel tank) were also made.
Production of the 500D contnued until 1965 when it was replaced by the 500F, the main changes being the adoption of front-hinged doors and a revised transmission. In 1968 the 500F was joined in production by the Lusso which had revised internal and external trim and details, most noticeably the addition of tubular 'extensions' (a form of bull-bars!) to the front and rear bumpers.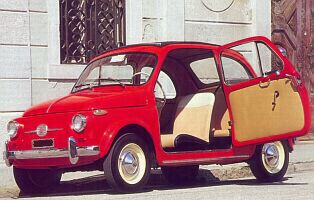 The final version emerged in 1972. The 500R used the new 594cc engine from the 126, with a reduced output of 18bhp, adopted the new Fiat logo, had different wheels and a few other changes.
It continued in production until 1975, when on August 1 the last car was produced. A total of 3,432,226 examples were built. A partial breakdown of production is as follows :
original 'nuova 500' from 1957 to 1960 (including 'Sport') : 181,078
Giardiniera (from 1960 to 1977) : 7,000 (from 1966 production was by Autobianchi)
500D (from 1960 to 1965) : 640,520
500F and L (1965 to 1972) : 2,272,092
500R (1972 to 1975) : 235,744
See a period promotional video of the nuova 500 (4.2MB)
---
For various 500 based cars see the 'Other Marques' page, which includes companies such as Vignale, Ferves, Giannini, Abarth and many more.
---
Technical Details

Engines
479cc (66x70mm) two cylinder air cooled with 13bhp @ 4000rpm (later 15bhp)
499.5cc (67.4x70mm) with 17.5bhp @ 4400rpm or 18bhp @ 4600rpm or 21.5bhp
Suspension
front : Independent, single upper wishbone with telescopic damper and single transverse leaf spring
rear : independent with telescopic dampers and coil springs
wheelbase : 1840mm
front track : 1121mm
rear track : 1135mm (Giardiniera : 1131mm)
Brakes
front : drums
rear : drums
handbrake operating on the rear via a cable
Gearbox
4 speed manual
cable operated clutch
Steering
worm and sector
Kerb weight
original : 470kg
Giardiniera : 555kg
500D : 500kg
500F : 520kg
click here for a cutaway drawing of the 500
click here for a cutaway drawing of the 500 Giardiniera

---
---
---
For books on the Fiat 500 see our Online Bookstore
There is also a list of all our picture galleries (including museums, motorshows and various events).
Wallpapers/Desktop Backgrounds of numerous Fiats also available to download.
---
Links
An informative 500 website
The Dutch 500 Club website
The official New Fiat 500 website

---
500 comment form
---
Your Comments
I first saw a 500 several years ago when I visited Italy. I fell in love with the car. On subsequent trips to Italy, my affection grew and grew. I had to have one. They were not directly imported into the US, so it was going to be difficult to find one. I found an Italian living in Toronto who brings several back from Italy every year. I finally purchased one from him. It is great! A real eye-catcher. You get comments and winks everywhere you go. Not an everyday car, but a great car for the short weekend jaunt. (Joe B, USA)
A 500 was my first car.I loved that car. (Alessio, Italy)
I just bought a 1968 F model 500 from a man who sells Mini Coopers in Southern California. The car was imported from New Zealand so it is right hand drive. Now no one in my town can have such a unique car as me. I like it so much that I am going to get another and make it like an Abarth. I am also going to get a Giardiniara. These cars are fantastic. (Mike H,USA)
I have a 1963 500 D. It's my first car and probably it will be also the last!!! The 500 is not only a great car, but it's a way to feel better everyday. My 500 is a alive..it's a friend! I can't explain very well how I feel about this car...I can only say... SHE 'S THE ONE!!! (Francesco, Italy)
---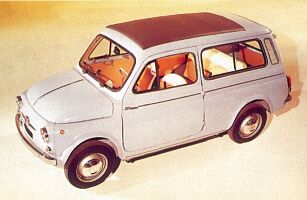 Use the buttons at the top to navigate further, or
---
Copyright © 2000 to 2008 CarsfromItaly