Alfa Romeo 159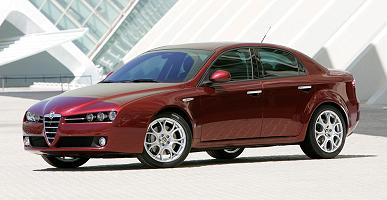 The replacement for the Alfa 156, the Alfa 159, was launched at the Geneva Motorshow 2005.
The Alfa 159 is an visually stunning car, taking the front styling cues first seen on the Brera concept car. Combining generous dimensions (it is consideraby bigger than the 156) with visual compactness is never an easy task, but the 159 manages it perfectly. Designed by Giorgetto Giugiaro in collaboration with the Alfa Romeo Centro Stile, the new car, in both saloon and Sportwagon variants, has a number of distinctive features that highlight its personality and make it immediately recognisable.
The front is dominated by a large, vertical Alfa Romeo grille, following the family feeling seen on recent cars. On each side are three small lights, the very characteristic design first seen on the Brera concept, whilst the swage running the full length of the side combined with the large C-pillar and slender A-pillar give the car a robust appearance. The overt use of all four doorhandles (as opposed to the concealed rear handles on the 156) reinforces the size of the car. The rear echoes the styling of the rest of the car, with small round inserts in the light clusters and a horizontal theme echoed by the swaging. More powerful versions get twin tailpipe exhaust systems.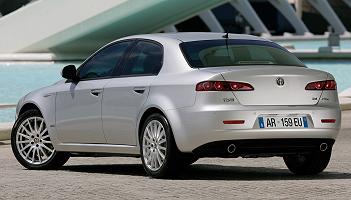 The Alfa 159 is a much larger car than its predecessor, providing a more comfortable interior (with class leading space) as well a a more engaging driving position. With all the controls and instruments carefully positioned around the driver, the Alfa 159 offers a considerably more driver-biased interior than most of its rivals, the turbo boost (or oil temperature for petrol engines) guage being just one example. High quality materials are used, blending the sportiness of aluminium with the luxury of leather.
With the Alfa 159 project, Alfa Romeo is aiming to reach new levels of passive safety. The new so-called 'premium' floorpan has been developed, adopting high performance materials, multiple layers of sheet metal and the use of laser welding. Traditional methods such as boxed sections, increased welding in structural areas and longitudinal members all help make the car exceptionally safe in the case of an incident. They also produce a very torsionally rigid bodyshell which has benefits to the ride and handling.
In terms of active safety, the Alfa 159 can be equipped with up to eight airbags (including driver and passenger knee airbags), innovative restraint systems, and front seats with an 'anti-whiplash' device which moves the head-restraint nearer to the occupants' necks in the event of a rear impact.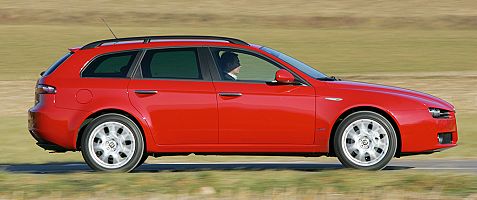 However, Alfa Romeo did not make its name in the arena of safety. The critical part is always the driving experience, and in this area the Alfa 159 continues to excel, with a comprehensive range of engines. Using petrol, three new JTS (direct injection) engines, all with continuous dual variable valve timing (inlet and exhaust), are available : a 3.2 V6 24v (260 bhp), a 2.2 16v (185 bhp) and a 1.9 16v (160 bhp).
In terms of diesel, there are another three units, a 2.4 JTDM 5-cylinder 20v engine (200 bhp) and two 1.9 JTDM engines, one with 16v and 150 bhp at 4000 rpm, the other with 8v and 120 bhp. All these use the latest MultiJet development of the JTD common-rail injection system as well as variable geometry turbochargers and intercoolers. All the engines meet Euro 4 standards, whilst the diesels feature particulate traps (DPF) with a 'for life' system.
These six engines drive through various transmissions, all with six speeds. Both conventional manual and robotised Selespeed units are used, with conventional automatic boxes, known as Q-Tronic, (still 6 speed) optional on some of the engines. The latter can be operated as a conventional automatic or in sequential mode.
The other traditional Alfa strength is dynamic performance, and for this the Alfa 159 employs 'high' double wishbones at the front, and a multilink setup at the rear. This gives an exceptional capacity to absorb road roughness, whilst providing superb roadholding, maximum stability in high speed manoeuvres and an agility unexpected for a large saloon. As well as a responsive steering system and exceptional brakes, the 159 is equipped with a full array of electronic aids, including ABS, ASR, HBS, EBD, MSR and VDC !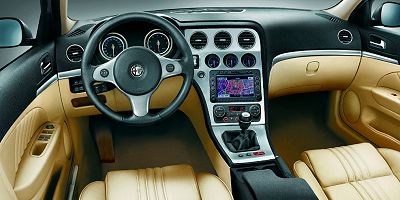 On the 260bhp V6 version, the power is transmitted to all four wheels through a permanent 4-wheel drive system with three differentials (including a Torsen C self-locking central differential) developed from that on the Crosswagon Q4. This system splits the torque constantly and dynamically between the four wheels, the Torsen-C self-locking central differential sending about 57% to the rear wheels and 43% to the front.
As is now the norm for such a class of car, numerous devices and systems are fitted (or optional) to make life on board as comfortable as possible, including cruise control, rain, dusk and parking sensors (front and rear), a satellite navigation system, voice controls, a built-in GSM hands-free telephone, automatic climate control with dual or triple-zone temperatures, a radio-CD-MP3 player with 10-disc autochanger, a BOSE® Hi-Fi Sound System, seats with electrical adjustment, folding rear seats and, for the gadget lovers, a push-button ignition swith on the console.
The estate version, known as the Sportwagon, emerged slightly after the saloon. Managing to retain the exceptional frontal styling of the saloon but blend on a true load-lugging rear end, it manages to look purposeful and aggressive, even with its practical purpose. Apart from the rear bodywork, the Sportwagon is identical to the saloon, including the same wheelbase and overall length.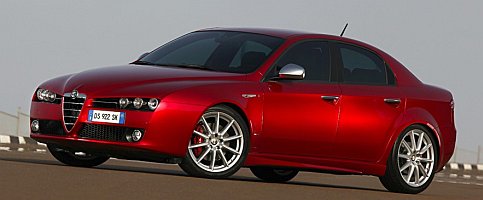 In 2007 the 2.4 MultiJet diesel engine saw its power grow from 200bhp to 210bhp, except with the Q-Tronic automatic transmission, which remained 200bhp. More changes to the Alfa 159 came in 2008, when a series of minor tweaks were made to the product and range. A new system called 'Electronic Q2' was introduced, which provides a similar functionality to a LSD by using differential braking. A series of changes to the interior included new fabrics, styles, dashboard, instruments, materials etc. The 3.2 V6 became available with front-wheel-drive (previously only available with 4WD). More significantly was a weight reduction programme which saw the cars lose around 45kg from the kerb weight.
The Geneva show of 2009 saw a revised range launched, the most significant development being the addition of two new engines. The first was an all new high performance turbocharged 1750 unit with 200bhp and direct injection, twin variable camshafts and unique scavenging technology. The second was a 170bhp 2.0 JTDm turbocharged diesel unit. An ECO version of the latter engine was later added, which used different tyres and gear ratios to reduce the fuel consumption and emissions.
See a video of the 159 Sportwagon here (2.2MB).
CarsfromItaly was at the Geneva 2005 launch, see our 159 gallery for images.
Click here for a series of high resolution images of the 159 and here for a series of images of interior details.
---
---
Technical Details

Driveline
transverse engine at front with front or four wheel drive
Engines
1796cc (80.5x88.2mm) 4-cyl in-line with 140bhp @ 6500rpm
1859cc (86x80mm) 16v 4-cyl in-line direct injection (JTS) with 160bhp @ 6500rpm
2198cc (86x94.6mm) 16v 4-cyl in-line direct injection (JTS) with 185bhp @ 6500rpm
3195cc (85.6x89mm) 24v V6 direct injection (JTS) with 260bhp @ 6300rpm
1910cc (82x90.4mm) 8v 4-cyl in-line turbocharged diesel (JTDm) with 120bhp @ 4000rpm
1910cc (82x90.4mm) 16v 4-cyl in-line turbocharged diesel (JTDm) with 150bhp @ 4000rpm
2387cc (82x90.4mm) 20v 5-cyl in-line turbocharged diesel (JTDm) with 200bhp (later 210bhp) @ 4000rpm

1742cc (83x80.5mm) 16v 4-cyl in-line direct injection turbocharged with 200bhp @ 5,000rpm and 320Nm @ 1,400rpm
1956cc (83x90.4mm) 16v 4-cyl in-line turbocharged diesel (JTDm) with 170bhp @ 4,000rpm and 360Nm @ 1,750rpm

Suspension
front : double wishbone with telescopic dampers and coil springs plus anti-roll bar
rear : Multilink with telescopic dampers and coil springs plus anti-roll bar
wheelbase : 2700mm
Brakes
front : ventilated discs (305mm except V6 & 2.4JTDM 330mm)
rear : discs (278mm solid except V6 & 2.4JTDm 292mm ventilated)
handbrake operating on the rear via cable
dual hydraulic circuit with servo assistance
ABS
Electronic brake distributor (controls front to rear balance)
Gearbox
6 speed manual (also available with electronic button control) (5-speed with 1.8-litre engine)
automatic
Steering
Rack and pinion with hydraulic assistance
Dimensions
length / width / height : 4660mm / 1828mm / 1417mm
---
---
Performance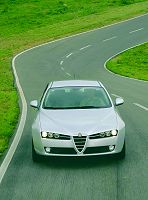 | | | | |
| --- | --- | --- | --- |
| model | max speed | 0-100kph | 0-1000m (standing km) |
| 1.9 JTS | 212 kph | 9.7 sec | 30.7 sec |
| 2.2 JTS | 222 kph | 8.8 sec | 29.6 sec |
| 1750 TBi | 235 kph | 7.7 sec | 28.9 sec |
| 3.2 V6 JTS | 240 kph | 7.0 sec | 27.5 sec |
| 1.9 8v JTDm | 191 kph | 11.0 sec | 32.8 sec |
| 1.9 16v JTDm | 210 kph | 9.4 sec | 30.8 sec |
| 2.0 JTDm | 218 kph | 8.8 sec | 30.2 sec |
| 2.4 JTDm | 228 kph | 8.4 sec | 29.2 sec |
---

For books on Alfa Romeo see our Online Bookstore
There is also a list of all our picture galleries (including museums, motorshows and various events).
Wallpapers/Desktop Backgrounds of numerous Alfa Romeo's also available to download.
---
159 comment form
---
Your Comments
The return of a legend. As a former owner of a 1984 Turbo and the recent 156 2,5i V6. All I can say about the new 159 is that the real legend has returned to the Alfa stable and we are waiting. (Malcolm, RSA)
Wow! Look out, Audi, BMW and Mercedes:This one looks way better than any other. More compact, stronger, curves etc. And hopefully at the same premium quality! (Terje, Norway)
---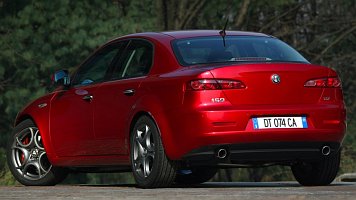 Use the buttons at the top to navigate further, or
---
Copyright © 2000 to 2011 CarsfromItaly