Alfa Romeo Brera & Spider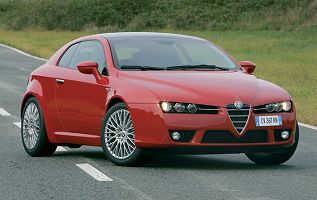 The stunning Alfa Romeo Brera made its debut at the 2005 Geneva Motor Show, three years after the first public appearance of the original Giorgetto-Giugiaro designed concept car at the same show in 2002 (images). That car went on to gain international acclaim, and the production version maintained almost exactly the same outstanding looks.
Based on the premium platform and mechanicals of the Alfa 159, the new Brera has those characteristics most associated with Alfa Romeo - sportiness and elegance - in a unique and exclusive style. The harmony of the Brera's shape and size, allied to the outstanding engineering and driveability of an Alfa Romeo, makes for a car which is both beautiful and functional.
The Brera is a 2+2 of generous dimensions: 1830mm wide, 4414mm in length and 1372mm high. However the design, featuring deeply tapered front and rear styling, creates the impression of a very compact car, looking much smaller in the metal than in images. The interior is both cosy and sophisticated, through the careful selection of high quality materials and the introduction of some novel ideas such as the wide glass fixed roof that creates more natural interior light for passengers, adding to the sensation of spaciousness inside. Practicality has not been forgotten, and the boot is a usable size, considerably larger than the Alfa GTV which it replaces.
Available in two trim levels, the Brera is powered by three different engines, a 200bhp 2.4 JTD turbo-diesel and two petrol engines (the 185 bhp 2.2 JTS or the 260 bhp 3.2). The two lower powered engines are fitted with front-wheel drive, whilst the V6 comes with a four-wheel-drive system similar to the Q4 recently introduced to the Alfa 156 Crosswagon.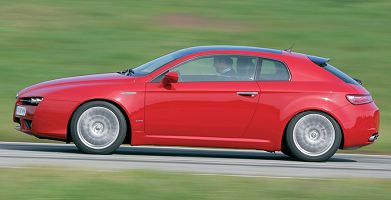 Transmissions are either an automatic box or a 6-speed manual depending on the version. As well as the character and delights one expects from an Alfa Romeo, the new car delivers outstanding dynamic performance thanks to the use of quadrilateral front suspension and Multilink rear suspension.
As would be expected in such a vehicle, the Brera is equipped with the most sophisticated electronic systems to monitor and control key dynamic parameters of braking and roadholding to deliver greater driving safety. Unusually for a modern car, the entire electronic stability systems (traction control and ESP/VDC) can be disactivated by the driver.
An open version, known simply as the Alfa Romeo Spider, with a folding canvas roof, was first shown to the public early in 2006. Apart from the roof and the deletion of the (rather pointless) back seats, the Spider was mechanically identical to the coupe in most respects. The diesel engine was not available at launch in the Spider, but was soon introduced.
In 2007 the 2.4 MultiJet diesel engine saw its power grow from 200bhp to 210bhp, except with the Q-Tronic automatic transmission, which remained 200bhp. More changes to the Alfa Brera and Spider came in 2008, when a series of minor tweaks were made to the product and range. A new system called 'Electronic Q2' was introduced, which provides a similar functionality to a LSD by using differential braking. A series of changes to the interior included new fabrics, styles, dashboard, instruments, materials etc. The 3.2 V6 became available with front-wheel-drive (previously only available with 4WD). More significantly was a weight reduction programme which saw the cars lose several kilos from the kerb weight.
See the original Giugiaro Brera concept car.
See a video of the New Spider here (3.5MB).
---
Technical Details

Driveline
transverse engine at front with front or four wheel drive
Engines
2198cc (86x94.6mm) 16v 4-cyl in-line direct injection (JTS) with 185bhp @ 6500rpm
3195cc (85.6x89mm) 24v V6 direct injection (JTS) with 260bhp @ 6300rpm
2387cc (82x90.4mm) 20v 5-cyl in-line turbocharged diesel (JTDM) with 200bhp @ 4000rpm
Suspension
front : double wishbone with telescopic dampers and coil springs plus anti-roll bar
rear : Multilink with telescopic dampers and coil springs plus anti-roll bar
wheelbase : 2525mm
Brakes
front : discs, diameter 305mm (2.2), 330mm (3.2)
rear : discs, diameter 278mm (2.2), 292mm (3.2)
handbrake operating on the rear via cable
dual hydraulic circuit with servo assistance
ABS
Electronic brake distributor (controls front to rear balance)
Gearbox
6 speed manual
Steering
Rack and pinion with hydraulic assistance
Dimensions
length / width / height : 4413mm / 1830mm / 1372mm
---
---
Performance

| | | |
| --- | --- | --- |
| model | max speed | 0-100kph |
| 2.2 JTS | 222 kph | 8.6 sec |
| 3.2 V6 JTS | 240 kph | 6.8 sec |
---

For books on Alfa Romeo see our Online Bookstore
There is also a list of all our picture galleries (including museums, motorshows and various events).
Wallpapers/Desktop Backgrounds of numerous Alfa Romeo's also available to download.
---
Brera comment form
---
Your Comments
I am delighted that Alfa Romeo is going to pruduce the Brera. This was a design that was just too belissimo not to put into production. In a way, perhaps the Brera will be a ( not so ) poor man's Ferrari, especially when the Spider version arrives. And should Alfa choose, this is the perfect vehicle to reintroduce America to the Alfa Romeo marque. (John BF, USA)
Beautiful. I look forward to owning one.
---
---
Use the buttons at the top to navigate further, or
---
Copyright © 2000 to 2008 CarsfromItaly