Alfa Romeo GT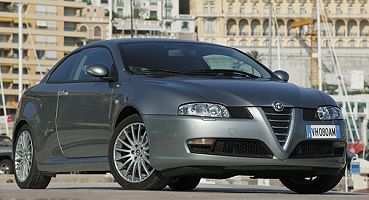 2003 finally saw the long awaited new coupé from Alfa Romeo, known before its official launch as both the 156 Coupé and the new Sprint. Official designation is simply 'GT'. Based on the 156, it is a stunningly pretty, guaranteed head-turning, two-door coupé designed by Bertone taking many design cues from other current and classic Alfa Romeo cars.
Mechanically it takes its underpinnings from the 156, with some influence from the slightly more modern 147, hence the double wishbone front setup and the multilink rear system. This well developed design offers exceptional roadholding and handling, even when putting 240bhp through the front wheels, thanks in part to the electronic systems on board. The very quick steering and smooth transmissions all combine to provide a suitably Alfa driving experience.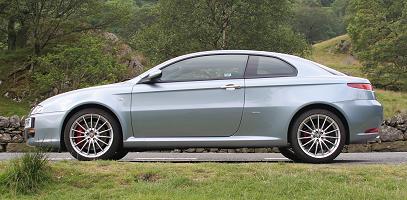 Inside it uses the much praised 147 style dashboard with the three-instrument binnacle directly in front of the driver, harkling back to more classic designs. Bespoke interior trims, materials and colours include lashings of leather and extend into the surprisingly (for a coupé) roomy rear compartment, which makes the GT a true four seater, with lots of luggage space as well. The driving position is comfortable, with excellent adjustability and forward visibility, although seeing what is behind is rather more difficult (rear parking sensors are available as a useful option!). The leather sports seats provide exceptional support when taking the car to its limits.
Designed more as a true 'GT' grand tourer than a sportscar, the 3.2 V6 version also excels as a drivers car. With 240bhp, one of the sweetest sounding engines available in a car today, bigger brakes, direct and well weighted steering and a tuned chassis this version is just a suited to a twisty lane in the countryside as to a long cruise on the motorway. The 3.2 V6 unit from the GTA is slightly detuned and coupled to a very slick six-speed transmission. Other powerplants range from the humble 1.8 (140bhp, only in certain markets) to the 2.0 JTS (165bhp) with a 1.9 MultiJet turbodiesel unit with 150bhp also present and proving very popular.
In 2007 the Alfa GT saw the introduction of the Q2 system. Basically a limited-slip differential on the driven front wheels, it uses a Torsen-type differential and improves traction and handling. 2008 saw a new engine, a 170bhp 16v development of the 1.9 MultiJet unit, becoming available in the GT, whilst the V6 disappeared from the line-up the year before that.
GT Coupé film (1.3 MB) : See the GT Coupé from all angles.
Wallpapers/Desktop Backgrounds of the Alfa Romeo GT are available to download.
---
Technical Details

Driveline
transverse engine in front with front wheel drive
Engine
1747cc 16v 4 cylinder dohc with 140bhp
1970cc 16v 4 cylinder dohc with 165bhp
3179cc 24v V6 dohc with 240bhp
1910cc 16v diesel 4 cylinder with 150bhp
Suspension
front : double wishbone with coil springs and telescopic dampers plus anti-roll bar
rear : McPherson strut multilink
wheelbase : 2596mm
Brakes
front : ventilated discs (V6 with 4-pot callipers)
rear : discs
dual hydraulic circuit
handbrake on rear wheels
Gearbox
5 or 6 speed manual
Steering
rack and pinion with power assistance
2.2 turns lock-to-lock
Dry weight
3.2 V6 : 1410kg
---
---
---
Performance

| | | | | |
| --- | --- | --- | --- | --- |
| model | max speed | 0-60 mph | standing 1/4 mile | accel (50-70 mph in 3rd) |
| 3.2 V6 | 150 mph | 6.3 sec | 15.0 sec | 3.7 sec |
---

For books on Alfa Romeo see our Online Bookstore
There is also a list of all our picture galleries (including museums, motorshows and various events).
Wallpapers/Desktop Backgrounds of numerous Alfa Romeo's also available to download.
---
GT comment form
---
Your Comments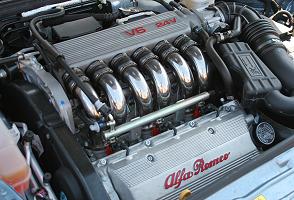 Superb! After a 20 year self imposed exile from Alfa Romeo I finally return ed to the marque with an order placed for a jtd with 18" alloys, etc etc. Having test driven the car and looked at the Audi TT and BMW 3 series, the sheer beauty and driving pleasure of the GT seduced me. I was astonished at the flexibility and responsiveness of this diesal engine. I can't wait for the car to be delivered. On a slightly negative note however, I ordered the car with the leather interior option and this is specified on the web-site as extending to the dashboard and door coverings. However on all the demonstrators I've seen the leather only extends to the upholstery and door inserts. Every enquiry to the dealer and Alfa Romeo UK drew a blank. They could not confirm what the option includes. Let's hope the car proves to be more efficient and reliable. (Will P, Scotland)
I took the gt for a test drive today!I currently own a 156 2:0lt,I can not even try to describe how different the two are, suffice to say I was absolutelly thrilled with the drive and its performance.I had my 11 year son and his 12 year old cousin who are bmw freaks,I feel they have now crossed over from the dark side to become true believers! just enjoy! (G, Australia)
Wow! Just taken delivery of the 3.2 litre V6. I think my first trip should be to the police station to hand in my licence! The performance is stunning, albeit it marred slightly by the expected torque steer. You have to expect it putting 240BHP through the same wheels that steer it. The seats are very comfortable and supportive, holding you in place if pushing it round the corners. Fuel consumption so far is nothing to write home about, but you don't go for this engine if you're worried about that. Only time will tell to see if the build quality is as good as first impressions. (Andy, UK)
Loving it! bought My GT 6 months ago and still in awe of its beauty. So far I can say I haven't seen a prettier car on the road and don't expect to see one that'll compare until the the brera comes out next year. The cars given me no problems so far other than front tyres which I had to replace a couple of weeks ago but that could be partly down to me enjoying the car a tad too much. (Jay, Ireland)
I got my GT for a week now and I'm thrilled. What a car. Great to drive. (DG, South Africa)
I have had my 3.2 GT for six months and i'm still smiling. quite simply amazing no faults no problems just lots of admiring glances and lots of fun. (Trooper, UK)
---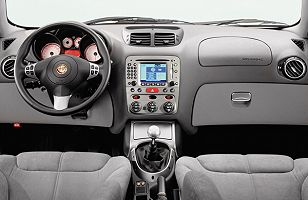 Use the buttons at the top to navigate further, or
---
Copyright © 2000 to 2011 CarsfromItaly