Alfa Romeo 147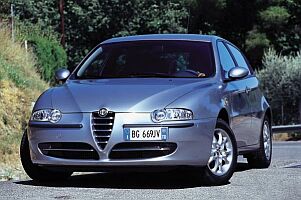 The replacement for the Alfa 145/6, the Alfa 147 was released to the world at the Turin Motorshow in June 2000. A completely new car, it uses a chassis derived from the Alfa 156. The wheelbase has been shortened slightly, whilst the suspension, both front and rear, remain the same type as the 156. Weight has been saved in interesting ways, such as the hollow front anti-roll bar. The now standard Alfa Romeo twin spark engines are used, comprising two 1598cc units (105bhp and 120bhp) and a 2000 (150bhp) unit. Designed in-house by Walter de Silva (the last Alfa he designed before he left), the Alfa 147 takes cues from classic Alfa's, especially at the front, whilst achieving a drag coefficient of 0.32.
The 'hot' version, with the 2-litre TS unit, has the Selespeed transmission (as fitted to the 156) as standard, whilst the other cars get a conventional five-speed manual unit.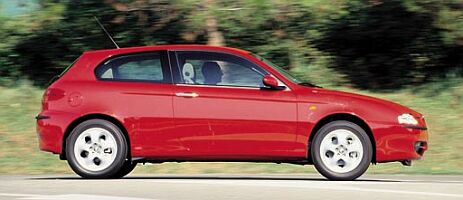 Initial release was of the three-door car only. The five door car, which features rear door handles semi-concealed as on the 156, was introduced in spring 2001. At the same time a 1900 turbo diesel (110bhp), complete with a variable geometry turbocharger and intercooler, was also launched, and the 2-litre cars became available with a conventional gearchange (ie with a manual clutch).
Extra features (either standard or available as an option) include ABS, EBD (electronic brake distribution), ASR (traction control) and VDC (vehicle dynamic control). Passive safety devices include six airbags (two front, two side and two window) and the usual seat belt pre-tensioners, side impact bars etc...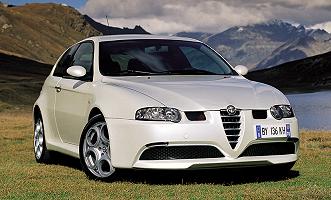 As well as the dual zone climate control, a navigation system (with a 5 inch display, available in either monochrome or colour) and a Bose sound system (with six-channel amp and subwoofer) can be specified. The interior has been focussed on and promises a higher than ever level of quality, both in the materials used and the construction, as well as an all new design, still with some classic Alfa cues.
In November 2000 the Alfa 147 was awarded the European Car of the Year title by 56 motoring press judges from 21 countries.
September 2002 saw the Alfa 147 GTA launched at the Paris Motorshow. Following on from the 156 GTA, the smaller brother uses the same 250bhp 24V 3.2-litre V6 engine and six-speed gearbox, whilst the body features a variety of detail changes such as a small rear spoiler, larger wheelarches, new front and rear bumpers and different wheels. Technically, both the front and rear suspension has been modified in numerous ways to cope with the extra performance, as have the cooling system, clutch, driveshafts and brakes.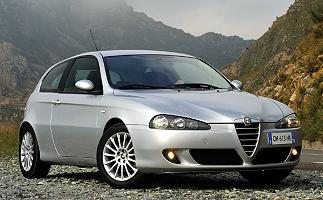 Also new for late 2002 was a more powerful diesel engine, a 140bhp 16V development of the original unit. Featuring twin overhead camshafts as well as a new crankshaft, connrods, pistons, cylinder head and oil pump this engine uses the latest 'multijet' technology which increases the number of injections per cycle to burn the same amount of fuel but in smaller doses, thus improving the noise and smoothness.
The Paris Motorshow 2004 saw the refreshed (facelifted) Alfa 147 emerge. After four successful years (around 350,000 sales and 27 prizes) the 147 received the new corporate nose, with a wider grille and new headlights as well as slightly revised tail-lights. Externally little else changed, whilst various minor improvements were carried out to the interior, including trim colours, instrumentation etc. Technically the suspension was improved, a new robotised transmission was introduced (replacing 'Selespeed' and known as 'Easy Speed') and the new 150bhp 1.9 MJet engine entered the range. A range of improvements to the safety features such as curtain airbags keep the model up-to-date with the latest technology.
In 2006 the new Q2 system was launched with certain engines. This is basically a limited-slip differential on the front wheels, using a torsen-type differential. This gives additional traction and improves acceleration and stability when cornering. In 2008 a new, even more powerful diesel engine joined the range. A development of the existing 1.9 MultiJet, the new unit produced 170bhp and came with the Q2 system as standard.
Production finally ceased in 2010 when the new Giulietta was launched.
---
Motorshows
For pictures of the 147 launch at the 2000 Turin Motorshow see our Motorshow report.
For pictures of the 147 GTA launch at the 2002 Paris Motorshow see our Motorshow report.
For pictures of the new 147 launch at the 2004 Paris Motorshow see our Motorshow report.
---
If 220bhp, 1110kg, limited-slip differential and slicks sounds better, click here for details of the 147 Super Production race car.
For pictures of a variety of design models of the 147 click here.
---
Films
Click here for a 147 GTA film (2.9 MB).
Click here for a new Alfa 147 film (3.5 MB).
---
We have a variety of Alfa 147 screensavers to download free, including the GTA launch.
---
---
---
Technical Details

Driveline
transverse engine at front with front wheel drive
Suspension
front : Double wishbone, telescopic dampers, coil springs and anti-roll bar
rear : McPherson strut, telescopic dampers, coil springs and anti-roll bar
wheelbase : 2546mm
track (front/rear) : 1.6 : 1518mm/1502mm (2.0 : 1509mm/1494mm)(GTA : 1516mm/1504mm)
Brakes
front : discs (ventilated on 2-litre) (diameter 284mm on 120bhp 1.6, 305mm vented on GTA))
rear : discs (diameter 251mm)(276mm on GTA)
handbrake operating on the rear via cable
dual hydraulic circuit with servo assistance
ABS (Bosch)
Gearbox
5 speed manual (Selespeed on 2-litre cars)
6 speed manual on GTA
Steering
Rack and pinion with speed sensitive hydraulic power assistance
2.2 turns lock-to-lock
Empty Weights
1.6 : 1200kg
2.0 : 1250kg
GTA : 1360kg
(approx 62% front / 38% rear)
Dimensions
Length : 4160mm; Width : 1700mm; Height ; 1400mm
---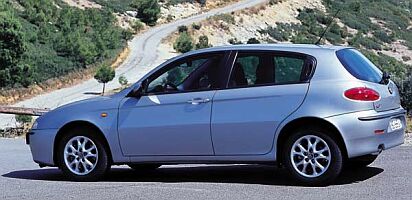 Performance

| | | | |
| --- | --- | --- | --- |
| model | max speed | 0-100km/h | standing km |
| 1.6 TS (120bhp) | 195 km/h | 10.2 sec | 31.5 sec |
| 2.0 TS | 212 km/h | 9.8 sec | 30.7 sec |
---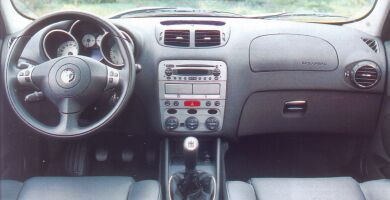 Tuning
There are a variety of options commercially available for the Alfa 147. Many companies have already produced a variety of bodykits, whilst some also offer mechanical improvements including turbocharging. Chips and the like are also readily available.
With all the new electronic controls present in a modern car it is becoming more difficult to tune these cars 'at home', but a variety of conventional modifications such as air-filters, exhausts, different brake discs, pads, brake fluid, dampers etc will still improve the handling, braking and performance.

---

For books on Alfa Romeo see our Online Bookstore
Wallpapers/Desktop Backgrounds of numerous Alfa Romeo's also available to download.
Screensavers of the Alfa 147 available to download (free).
---
147 comment form
---
Your Comments
A brilliant car, can't wait till it comes out over here! (Ben W, England)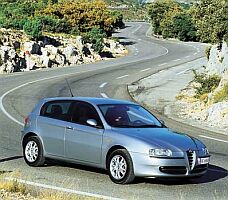 Fabulous and full of classic charm. A Jem to Alfa, A gift to drivers. (Roger S Jr, Malta)
This is an absolutely stunning and original small car design. Beautifully keeps the cues, character and sense of purpose of traditional Alfa's. I'd love to own one!
One of the most beautifull cars I have ever seen in the 1600cc category!
The alfa romeo 147 is very beautiful... no comments. The others cars haven't got this design, cuore sportivo engine... the designer (da silva) work now to Seat. I hope that designers from alfa romeo will continue this fabulous linea in the future.
Simply beautiful, and it´s going to be my next car. (Miguel, Portugal)
Yes, I agree with all.The car for next century. (DonLazzo, Slovenia)
I've wanted one since the first Spy shots were seen, I knew it was going to be special, but wow! Wonderful how they've bought the looks of the 156 with the Retro to create something beutiful yet aggressive, it looks like a different car at every angle you look at it, breathtaking. Audi A3 shake in your Chassis! I want one and I'm going to get one. (Ian C, England)

This ALFA 147 is a Piece of ART absolutely stunning I hope that the will maket to US & Canada for sure i will buy one (Franco B, Canada)
What a Car a true masterpiece, pity other makers don't design so good,it would make the car industry a much more interisting place (Hugh McP, Ireland)
Wonderful style, has class even for a small car. I just want to get my hands on one.(John D., Australia)
Already the most beautiful car of this century! Look at it, this is a car back to the roots and looking to the future! Buy it, or try it at least! (A.V, The Netherlands)
Beauty and power are taken to the next level by this piece of art ( or car as some will refer to it as). I am only 20, but if I have to rob a bank to get one, I will. Brilliant!!. (Foxx, South Africa)
1998 156 - Euro Car of the year, 2001 147 - Euro Car of the Year, no.....it should read...Alfa Romeo, the car of all time! I have heard once that you don't get "bad" art, if it's bad it's not art....other cars are pressed metal and plastic, this car is a metal sculpture....I'll get mine. Soon!
This piece of pure, unadulterated beauty and class is what every driver in the world has been yearning for. Its Audrey Hepburn on wheels!!!!! She'll be mine soon. (Kevin T, Ireland)
I recently bought the 147 and I am so surprised. It's Beautiful, Fast & Luxurious. It's the Best!!
It is great! (Melita, Croatia)
I just had the opportunity to drive a 147 during 1 week : I'm in love! It's really a wonderful car and you really enjoy driving it. (Fabrice, Belgium)
Alfa 147 is the best car in its category and that is why it is the car of the year.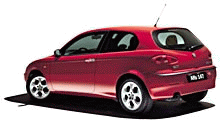 It makes the audi A3 look like a soap box! Brilliant! (Hermanzini,Norway)
It is the most beautiful car I have ever seen. If I could pick which car I could drive, I would pick the Alfa Romea 147. I am in love! (Sanja, Croatia)
It gives an energy to do all our jobs and trips properly, I think it will be one of the most popular car in Euorop and here in the middel East ( Faisal A, UAE Dubai)
There might be another word to describe this BEAUTY. To say it is a car is not enough... If an A3 is a car, if a Golf is a car, then this is not a car. They should not allow this BEAUTY to go on open roads, the rest of the drivers gaze at it and they could crash! What about a red carpet net only for Alfa and Lancia? What about a Quadrifoglio or GTA version featuring 200 bhp to show the world what Cuore Sportivo really means?
Hello everybody, I'm a Dutch Alfa147-driver and I can tell you, it's very addictive.
Sometimes dreams can be real. Thank you Alfa147! (Fabio, Italy)
Alfa 147 is THE CAR, it's not just a soul-less piece of metal parts. Only a spin in this baby will show you the real car experience. (Zwer, Croatia)
I have test driven the alfa 147 and i must say that it is something else out of this world,it is a must have car. (George, South Africa)
The best Alfa so far in every aspect. With regard to styling,technology and upfront stunning looks Alfa Romeo never disappoints. (Philip, South Africa)
A lovely car to drive, I own one and she is beautiful, mind you 0-100km 8.4sec
This car joins classical elements, new technology and further more! - And it is great fun to drive it. Perfect! I love it! (Bettina, Austria)
Hello ! I have an Alfa 156 V6 and we've just bought the new 147 for my wife and its simply GREAT !!! Between us, all those competitors as VW Golf, Ford Focus, Opel Astra or some frenchies .... CAN'T BE COMPARED TO THE 147 ! The REAL Alfa !! (Kristijan, Serbia)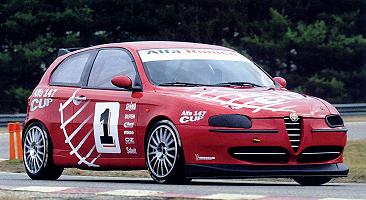 Had 147 1.6Lusso for 6 weeks now and it's brilliant everything about the car is so well thought out and those looks are brilliant and it goes as well as it looks and takes corner perfectly. Forget your German overweight overpriced cars buy an Alfa 147. Save money, have your cake, eat it and have some left .... (Mike, UK)
Finally, the one true replacement for the original Alfasud and the replacement of my ailing 33. The 147 combines all the true Italian characteristics of style and performance. The GTA will be a fine introduction to this range. (Tom, Australia)
I test drove a two litre version yesterday. I drive a 145 now .The 147 is really great beautifully styled, plenty of luxury,and the power!! It just keeps on going! Again a real Alfa. It's like they say, there are cars and then there are Alfa's. The Italians will always built the finest cars (Timothy, Belgium)
An absolute pleasure to drive. Road holding and styling from the top bracket we've come to expect from Alfa. (Zain, South Africa)
I have one! The 2.0 Selespeed + all extras. I can tell you this much: It's a real toy, never have as much fun as driving to work every morning...
I just want to tell that is is a very fabulous car. I just recieved mine, that orded over six month now. But it was waiting worth!!!!! (Luca)
Hi, I just bought an ALFA 147 and I've got mad with her. For me is one of the most beautifull Alfas ever made.It combines German quality and superb "Italian" driving feeling. If you are thinking of buying a new car, don't even think about something diferent. (Emmanuel, Greece)
Absolutely orgasmic!!At least thats what my friends say when I take them for a ride. I wish that every person gets a chance to own such a machine, I am in denial as to how much fun this car is. It is a real looker and performer. When owners of Ferrari's,BMW's, and mercs walking up to you at the local car wash ,shopping centre or even at robots to get a better look or enquire more about the car, you feel like a saleperson as you rap off the cars many attributes...Thats when you have a winner other car makes EAT YOUR HEART OUT. (Aza, South Africa)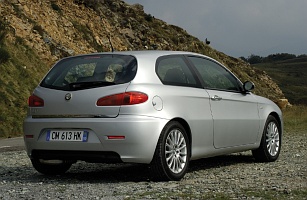 You guys - I'm so in love with this car - I bought her a couple of weeks ago and I just can't get enough of her - she's poetry in motion - rides beautifully, looks gorgeous, she's well made and the 1.6 four-banger carries her around quite gracefully. Many thanks to DaSilva and to mama FIAT for giving birth to this little beauty. (Dennis K, Greece)
A truly peerless italian classic design, the 147 is untouchable in its class (better than BMW and Benz to look at and drive respectivley while VW and Audi are nowhere) Above all else it could only be a true Alfa (Andrew, UK)
I've owned a 1.6 TS 105 for ten months now and I'm in the process of reselling it... only to buy a 2.0 TS Selespeed version. Wonderful car, stylish, the engines are great, the 147 has a lot of personality. (Jean-Remi, France)
Just drove a 147 2.0 TS w/ Selespeed and fully loaded. I owned a 2002/3 VW 1.8T Gti in states but after driving the 147 all I can say is WOW! The selespeeds feel strong and shifts like a sports car...I cant get over the interior and the bose speaker system. I am in Dubai, UAE, will pick up a platinum metallic gray end of the month!!
I've got a new restyled 5-door 1.6 (120hp) last week after owning a 75TS for 3 years. Style and interior are great - it is very comfortable. Acceleration and handling are very good for a city cruiser - of course GTA would perform better but it costs correspondingly;) (Andriy, Ukraine)
---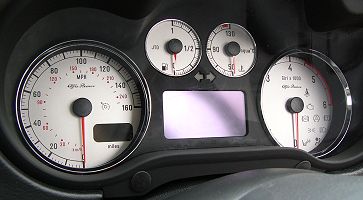 Use the buttons at the top to navigate further, or
---
Copyright © 2000 to 2011 CarsfromItaly