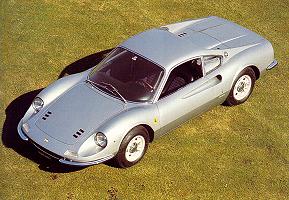 This page covers the following models :
Dino 206
Dino 246
The Dino 308 GT4 is featured on the 308 page.
The Dino 208 GT4 is featured on the 208 page.
---
The first road car with a Dino badge was seen on the Pininfarina stand at the Paris Motorshow in 1965 (the Dino 206 GT Speciale), based on a race car. The priciple feature was the V6 engine, a configuration never used by Ferrari until then. A combination of Enzo Ferrari's unwillingness to have a V6 Ferrari, and his desire to build a tribute his late son ('Alfredino', hence Dino) led to the V6 cars being sold as Dino's, at least until the mid-1970's.
The 206GT appeared in production trim in 1967 and had a transversely mounted 1987cc V6 producing 180bhp. Due to its small size, low weight and excellent balance, this was enough to make the 206GT an excellent 'drivers car'.
Despite not being badged a Ferrari, the design was by Pininfarina, construction of the bodies was by Scaglietti and final assembly was done at Maranello. The exceptional design was universally acclaimed and used an alloy body over the steel frame. The engines, although designed by Ferrari, were actually built by Fiat (although it should be noted that the Ferrari version was more powerful than that fitted to the Fiat Dino).
Technical Details

Engine
1987cc (86x57mm) 65deg V6 dohc (per bank) with 180bhp @ 8,000rpm
Suspension
front : independent using double wishbones with coil springs
rear : independent using double wishbones with coil springs
wheelbase : 2280mm
track (front/rear) : 1425mm/1400mm
Brakes
discs all round with servo assistance
Transmission
5 speed manual
Kerb weight
900kg
---
---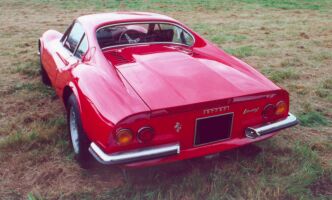 After only 152 of the 2-litre engined cars had been built, in 1969 the 246GT appeared on the scene. The engine was a larger 2419cc unit, now with a cast-iron block and producing 195bhp. This increased power, however, was hardly enough to offset the increased weight, resulting from both the cast-iron block, a stretched wheelbase and a steel body. Various other modifications were made including a larger fuel tank, five stud wheel fittings (the 206 had centre-lock wheels with spinners) and electric windows on some examples.
In 1972, at the Geneva Motorshow, the 246GT was joined by the 246GTS which featured a removable targa roof panel. The small rear side windows were also deleted, the butresses becoming solid with three-slat vents. Production of both models went on until 1973 by which time 2,732 GT's and 1,180 GTS's had been built. It is worth stressing that (despite many owners' modifications) these cars were never sold with any Ferrari badges on them. This engine was also used very successfully in the Lancia Stratos.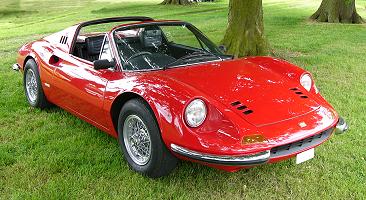 Technical Details as for Dino 206 except :

Engine
2419cc (92.5x60mm) V6 dohc (per bank) with 195bhp @ 7,600rpm
Suspension
whelbase : 2340mm
track (front/rear) : 1425mm/1430mm
Brakes
ventilated discs
Kerb weight
1,080kg
---

See our picture gallery index for images from museums, motorshows and events.
There are also wallpapers/desktop backgrounds available to download.
---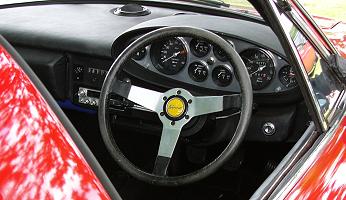 Use the buttons at the top to navigate further, or
---
Copyright © 2000 to 2011 CarsfromItaly