Ferrari 456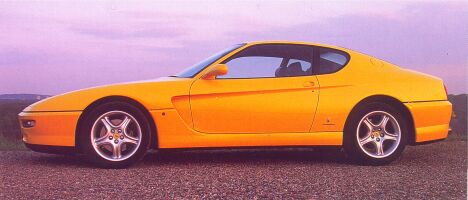 The Paris Motorshow in October 1992 saw the launch of the 456 GT, a new 2+2 grand tourer with the classic configuration of a front-mounted V12 engine driving the rear wheels. Design cues were taken from numerous sources, the rear reflecting the Daytona whilst the front adopted the new 'corporate nose' as seen on the 348 and 512TR & M. The body comprised a tubular steel frame onto which were welded the aluminium body panels.
The engine was a classic 65 degree V12 with four camshafts, producing 436bhp and coupled to a six-speed manual gearbox. The latter was mounted at the rear in a single unit with the transaxle giving a near perfect 50:50 weight distribution. Electronics increased their presence in a Ferrari with ABS & EBD (electronic brake distribution), ASR (traction control) and adjustable damping ('Sport' or 'Normal' modes, switchable by the driver).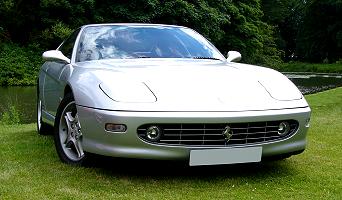 In 1996 the automatic 456 GTA was released with a four-speed automatic transmission whilst both models were facelifted in 1998 with the arrival of the 456M in both GT and GTA versions. Externally the front grille, spoiler and bumper were slightly modified whilst the interior benefitted from a more significant redesign.
---
Technical Details

Engine
5474cc (88x75mm) 65deg V12 dohc (per bank) with 436bhp @ 6,250rpm
Suspension
front : double wishbones and coil springs
rear : double wishbones and coil springs
switchable dampers
wheelbase : 2600mm
Brakes
ventilated discs all round with 4-pot callipers, servo assistance and ABS
Transmission
6 speed manual plus self-locking diff
Steering
rack and pinion with power assistance
Empty weight
456M GT : 1,690kg
456M GTA : 1,770kg
---
---
See our picture gallery index for images from museums, motorshows and events.
There are also wallpapers/desktop backgrounds available to download.
---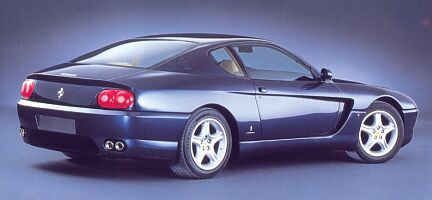 Use the buttons at the top to navigate further, or
---
Copyright © 2000 to 2011 CarsfromItaly