Ferrari 348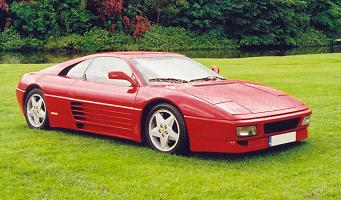 The 348, the replacement for the 328, was unveiled at the Frankfurt Motorshow in 1989 and entered production later that year. An all new car, it used a further development of the 328 engine, and still mounted behind the cockpit, but in the 348 it was turned so as to sit longitudinally. On the rear of the engine was the transmission, mounted transversely. For the first time in a production Ferrari the separate tubular frame was deleted, the whole car using a monocoque construction plus a subframe for the drivetrain (image).
The design was again by Pininfarina, and leant heavily on the style of the existing Testarossa. As in the latter car, the radiators were moved to the rear and slatted intakes aft of the doors were provided. The nose treatment was also similar, and the back lights were partially concealed by a similar slatted black grille.
When sales started In 1989 two models were available, the 348tb (t=transverse gearbox, b=berlinetta) with a fixed roof and the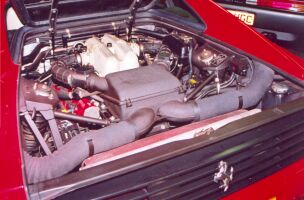 348ts (s=spider) which had a removable targa roof. A full convertible with a manually operated soft-top was introduced early in 1993, whilst later in that year the tb and ts were renamed GTB and GTS respectively, recogniseable by the deletion of the painted black band around the lower body. They also featured a revised interior whilst all three models got a revised engine now with 320bhp.
1992 saw a run of 100 cars produced for the US market and called Serie Speciale.These had numerous small changes, such as no black slatted grille concealing the rear lights, a revised interior, tweaked suspension and they were claimed to have more power and to weigh less. In Europe, 50 cars were built from 1994 as the GTC or 'Competitzione'. These had different wheels and tyres, a slightly revised suspension and some composite panels.
Production of the 348 GTB and GTS stopped in 1994 with the introduction of the new F355, whilst the Spider continued in production for a few months longer. Some 2,895 348tb's and 4,230 348ts's were produced.
---
Technical Details

Engine
3405cc (85x75mm) 90deg V8 32V dohc (per bank) with 300bhp @ 7,200rpm
GTC : 320bhp
Suspension
front : double wishbones and coil springs
rear : double wishbones and coil springs
wheelbase : 2450mm
track (front/rear) : 1502mm/1578mm
Brakes
ventilated discs all round with 4-pot callipers, servo assistance and ABS
Transmission
5 speed manual plus ZF self-locking diff
Steering
rack and pinion
Empty weight
1,393kg
---
---
See our picture gallery index for images from museums, motorshows and events.
There are also wallpapers/desktop backgrounds available to download.
---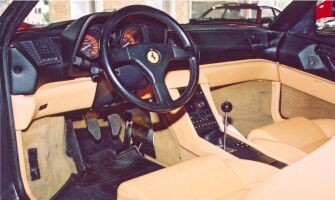 Use the buttons at the top to navigate further, or
---
Copyright © 2000 to 2011 CarsfromItaly