Fiat 126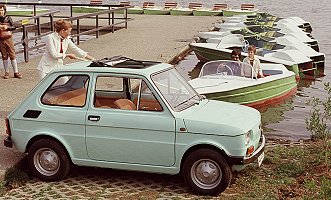 The Fiat 126 was introduced at the Turin Motorshow in 1972, and was a replacement and logical development of the long serving 500. Using an enlarged engine of 594cc it retained the remaining mechanicals of it's predecessor, clothing them in an all new bodyshell. Following in the latters footsteps there became available in 1973 a version with a canvas roll-back roof. Other luxurious options included reclining front seats and cloth upholstery.
In 1976, again at the Turin Motorshow, the '126 Personal' was revealed. This had numerous modifications including plastic bumpers, plastic rubbing strips, different mirrors, wheels and other trim details. In the following year a new engine, of 652cc (24bhp) was introduced.
In 1987 the 126 was 'revolutionised' - it gained a water cooled 704cc engine (26bhp @4500rpm) and became the 126bis. The engine was mounted horizontally (instead of the vertical arrangement of the previous version) which allowed more space for luggage at the rear, including the change to a single piece hatchback. This continued in production in Poland until September 2000 when the last car was produced.
At least one prototype of a front engine Fiat 126 was produced, but nothing ever came of the project.
Around 3.3 million examples were produced in Poland (from 1975) whilst another 1.3 million were produced in Italy (until 1980).
---
| | |
| --- | --- |
| | |
---
Technical Details

Driveline
longitudinal engine at rear with rear wheel drive
Engine
652cc (77x70mm) air-cooled two-cylinder ohv with 24bhp @ 4,500rpm
704cc (80x70mm) water-cooled 2-cylinder ohv with 26bhp @ 4,500rpm
Fuel Consumption
1977 Personal
Simulated urban cycle 38.7mpg / 7.3 l/100km
Constant 56mph 46.3mpg / 6.1 l/100km
Suspension
front : independent with telescopic dampers and single transverse leaf spring
rear : independent with telescopic dampers and coil springs
wheelbase : 1840mm
track (front/rear) : 1140mm/1203mm (bis : 1134mm/1169mm)
Brakes
front : drums, diameter 170mm, wheel cylinder bore 23.8mm
rear : drums, diameter 170mm, wheel cylinder bore 15.7mm
handbrake operating on the rear via a cable
Gearbox
4 speed manual
cable operated clutch
clutch plate diameter 155mm
Steering
Worm and sector (later rack and pinion)
3 turns lock to lock
Kerb weight
original : 580kg
Personal : 600kg
bis : 620kg
Dimensions
click here.
An exploded drawing of the Weber 28 IMB 5/250 carburettor (as fitted to the 650cc engine). (Large file !)
A cutaway drawing of the Fiat 126

---
---
Performance

| | | |
| --- | --- | --- |
| model | max speed | standing km |
| 126 Personal (1977) | 110 km/h | 46.1 sec |
| 126 bis (1987) | 118 km/h | 45.6 sec |
---
---
Tuning
One of the more popular and simpler modifications is to use the cylinder head and carburettor from the Panda 34. The basic engine was the same, but the breathing was considerably improved through a complete redesign of the internal passageways in the head. Other normal modifications such as air-filters and exhausts will always help. If any increase in performance is being carried out it is also necessary to improve the brakes, the standard 'all-drum' setup not being the most potent. Front disc brake conversions are available.
Giannini produced various versions of the Fiat 126 with increased power which can be looked to for ideas. It is also possible (in Italy) to purchase kits which increase the capacity of the engine, complete with pistons, camshaft, gaskets and other parts.
---
Maintenance
The following data refers to the 1989 126bis :
Scheduled maintenance :
Replace air filter : every 40 000km
Check valve clearances : 20 000km, 60 000km and then every 40 000km
Replace spark plugs : every 20 000km
Oil change : every 15 000km or 12 months
recommended engine oil : SAE 15W/40 semisynthetic or mineral multigrade oil exceeding API, SG and CCMC-G2 specifications.
recommended transmission oil : SAE 80W/90 non-EP
engine oil capacity (sump, filter & lines) : 2.25 litres
transmission oil capacity : 1.1 litres
tyre inflation pressures (front/rear) : 1.5bar / 2.0 bar (for fully laden car use 1.7bar / 2.5bar)
---
Buying / Selling
Some tips to do before selling : (they may seem obvious, but most people don't do them and thus are in a weaker bargaining position).
Tidy inside the car thoroughly : hoover the floor, empty all pockets, ashtrays (wash), glove compartment etc..., wipe the trim with a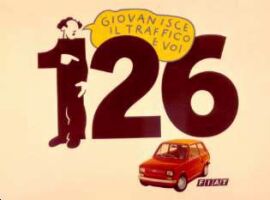 damp cloth, give the cockpit a good airing to get rid of any odours ! Reset the trip meter to 00000 - it is a pleasant (subconcious) surprise.
If the car has been standing give it a good run - this will clear out the engine (reduce exhaust smoke), put a shine on the brake discs and loosen up any joints that may otherwise make some noises.
'Back to black' products are very effective at temporarily restoring bumpers and trim. This makes a big difference to any car. Do it a week before you expect people to view the car, otherwise it may be a bit too obvious !
Jetwash under the car, especially under the engine and in the wheelarches. The prospective buyer may be an enthusiast, and this makes it easier for them to see what they want to check.
Obviously wash the car and clean the windows !
If you are going to buy a car always check the following :
Firstly check the bodywork. Pay special attention to the wheelarches (inside if there is no plastic splash guard), suspension and engine mounts, sill, door pillars (check for sagging doors), scuttle panel and the floor (doors, bonnet and boot/hatch are also susceptible, but are more easily replaced). If a sunroof is fitted check around the edge for signs of rust. Check that there are no mismatching panels, large areas of discolouration or signs of fresh paint.
Check for a damp carpet or the presence of mould - if the carpet is damp then the floor is almost certainly corroded.
Check the main electrical functions - wipers, lights, etc... try putting the main beam and wipers on at the same time. Check the headlight reflectors for rust.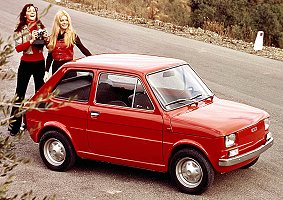 Check the brake pedal does not go to the floor if pressed hard for a long time and check the gearchange for clean engagement.
The engine should be run up to temperature and the exhaust checked for smoke. Listen to the noise of the engine, then depress the clutch and engage first gear. Whatever noise has disappeared was coming form the gearbox, what remains is from the engine. Check the colour of the oil using the dipstick, a golden-brown is best, dark is ok, but avoid engines with thick black oil. If it has coolant (bis), check the colour of this.
Check tyre wear, uneven patterns could imply a bent chassis.
Always take it for a test drive. Check that the car tracks in a straight line with no steering input. Find a large open area and complete several lock to lock turns (also in reverse), listening for any noises. Try the handbrake when moving - seized rear callipers will mean uneven braking or no braking.
---
Links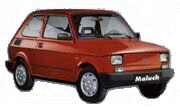 The Fiat 126 club of Hungary website (in Hungarian)
A 126 (and 500) website

---
Fiat 126 Workshop Manual : buy it online here (in association with Amazon)

For more books on Fiats, see our Online Bookstore
---
126 comment form
---
Your Comments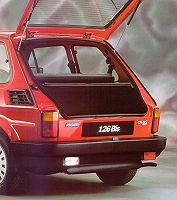 Excellent little beasties. have 2 of them, one all original and in excellent condition, the other to be repaired and on the road later this year
I own both an air-cooled 126 and a 126BIS, the water-cooled version (lucky me!). All jokes aside the 126 is fun to drive around town and could almost be called 'nippy'. The 126 is cheep to run, tax and insure and as a second car, or a 'town car' it does the job well. If anyone is thinking of buying one you have the choice of air-cooled or the water-cooled BIS version. The BIS has a habit of blowing head gaskets and over heating.
Don't let this put you off, a well maintained car will go the distance...as well as put a smile on your face ( as well as others!) (S.C., London, England)
What a fabulous little car. Bought a 126BIS for my daughter's 17th birthday, and she simply adores it. I've been teaching her to drive in it, and apart from the obvious little things you would always have to do to keep a ten-year-old car running, it's been faultless. And what a hoot to drive! If only modern boxes were as much fun to go out in. Added bonus: all my daughter's friends think it's just the coolest thing on four wheels... (Tosh, UK)
A fantastic practicle little car. (Ian W, UK)
I love my 126 BIS. I have been able to maintain it myself even though I had never worked on any car before owning it. The best part of ownership is watching peoples faces at the supermarket when I have filled the boot with shopping and proceed to fill the bonnet as well. You can see them thinking 'Where does the engine go?'. It is a brilliant design. It is the slowest and cheapest car I have ever bought and the one I have loved the most. (Nick, UK)
---

There is also a list of all our picture galleries (including museums, motorshows and various events).
Wallpapers/Desktop Backgrounds of numerous Fiats also available to download.
---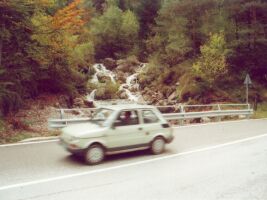 Use the buttons at the top to navigate further, or
---
Copyright © 2000 to 2008 CarsfromItaly