Fiat 132 & Argenta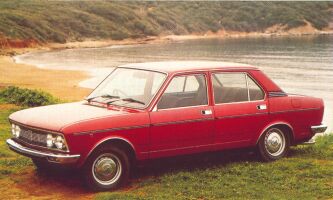 The 132 was introduced in May 1972 as the replacement for the 125. Featuring either a 1592cc dohc (98bhp) engine or a 1756cc dohc (105bhp) unit, the mechanicals were developments of the 125 and the engines derived from the dohc units of the 124 Spider. A new but conventional three box saloon body was available in two trim levels, 'normale' and 'special', with minor styling differences, both inside and out (the Speciale had more chrome on the grille and various trim). A long list of options were available, mechanically including electronic ignition, 5-speed gearbox, automatic transmission and even a limited slip differential whilst for your comfort you could specify air-conditioning, heated rear window, front head restraints, different upholstery, alloy wheels and metallic paint.
In 1974 the range was slightly revised and became simply two models, the 1600 GLS and the 1800 GLS. Cosmetic changes included the front grille, hubcaps, lights, instrumentation whilst under he bonnet the 1800 gained 2bhp thanks to modifications to the cylinder head and fuel feed. Mechanical changes also impacted the the front suspension and transmission ratios.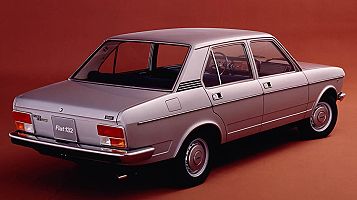 A major facelift was completed in 1977 when, after the demise of the 130, the 132 became the 'flagship' of the Fiat range. Numerous detail changes were made, such as bumpers, mirrors and trim. The most noticeable was the addition of chunky rubber side rubbing strips. Mechanically the 1800 engine was replaced by a 1995cc dohc (112bhp) unit and the rear disc brakes replaced by drums. A 1600 version continued to be available, but with a new 1585cc unit.
1978 saw the introduction of the 132 diesel, available with either a 2000 or 2500 engine. These cars are easily recognizable since the bonnet has a bulge to clear the new engines. The following year, at the Frankfurt Motorshow, Fiat unveiled the 132 2000 injection fitted with a Bosch L-Jetronic system and now producing 122bhp.
These various versions soldiered on until 1981 when production of the 132 ceased (after around 600,000 had been built). The replacement was really a heavily facelifted version using the same chassis and mechanicals and was called the Argenta. Now offered with the 1600 and 2000 petrol engines, both injected, and the 2500 diesel engine (still recognizable by the bonnet bulge), the Argenta was also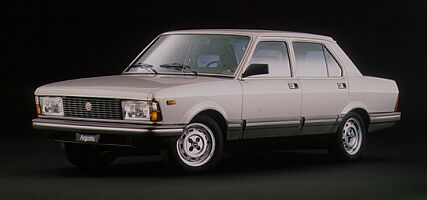 available with a three speed automatic. A carburettored 2000 engine (113bhp) was also fitted for some export markets. The 2000i got electronic ignition in 1982, becoming the 2000iE.
The range was revised in 1983 when the 1585cc (1600i) and 1995cc (2000iE) models were renamed the 100ie and 120ie respectively, the 1995cc carburettor model becoming the '110'. At the same time changes were made to the front suspension, steering and brakes, whilst the 120ie also gained a rear anti-roll bar. Externally the grille, bumpers and wheels changed.
In 1984 there appeared a supercharged Argenta (the Volumex with 135bhp) and a turbo diesel (90bhp). This latter was the first production Fiat to use a turbocharged diesel engine, with a KKK unit providing 0.87 bar of boost. The turbo diesel also benefitted from disc brakes at the rear. The normally aspirated unit continued to be available.
Production ceased in 1985.
Click here for various 132 based concept cars.

---
Technical Details

Driveline
longitudinal engine at front with rear wheel drive
Engine
1592cc (80x79.2mm) dohc four cylinder with 98bhp @ 6,000rpm
1756cc (84x79.2mm) dohc four cylinder with 105bhp
1585cc (84x71.85mm) dohc four cylinder with 98bhp @ 5,600rpm
1995cc (84x90mm) dohc four cylinder with 112bhp @ 5,600rpm (122bhp with fuel injection)
1995cc (84x90mm) dohc four cylinder supercharged with 135bhp @ 5,500rpm
1995cc (88x82mm) sohc four cylinder diesel with 60bhp @ 4,400rpm
2445cc (93x90mm) sohc four cylinder diesel with 72bhp @ 4,200rpm
2445cc (93x90mm) sohc four cylinder turbo diesel with 90bhp @ 4,100rpm
Suspension
front : independent with telescopic dampers and coil springs
rear : live axle with telescopic dampers within coil springs
wheelbase : 2557mm (Argenta : 2558mm; from 1983 : 2563mm)
track (front/rear)
132 : 1313mm/1321mm (2.5 diesel : 1321mm/1327mm)
Argenta : 1321mm/1353mm (fromt 1983 front : 1381mm)
Brakes
front : discs, diameter (all 132 except 2.0) : 227mm; (132 2.0) : 251mm
rear : discs, diameter : 227mm; (later drums, diameter : 228mm)
handbrake operating on the rear via a cable
Gearbox
4 and 5 speed manual
3 speed automatic
cable operated clutch
clutch plate diameter : (132 1.6) : 200mm; (132 1.8 & 2.0) : 215mm
Steering
Worm and roller
recirculating ball with power assistance on some models
3 turns lock to lock (132)
Kerb weight
132 (1600/1800) : 1070kg
132 (1600/1800 GLS) : 1095kg
132 (2000) : 1140kg
132 (2000 diesel) : 1270kg; (2500 diesel) : 1280kg
Argenta (1600) : 1140kg; (2000) : 1190kg
Dimensions
132 (1600)
For a diagram of the complete drivetrain click here.
---
---
Performance

| | | | | |
| --- | --- | --- | --- | --- |
| model | max speed | 0-100km/h | standing km | braking (from 120km/h) |
| 132 2.5 diesel (1978) | 142 km/h | 20 sec | 39.23 sec | |
| 132 2000 Iniezione (1979) | 175 km/h | 10.7 sec | 34.5 sec | |
| Argenta 1600 (1982) | 164 km/h | 12.1 sec | 34.1 sec | 78.4 m |
| Argenta 2000 IE (1982) | 173 km/h | 10.8 sec | 32.9 sec | 80.6 m |
---
---
For books on Fiat see our Online Bookstore
There is also a list of all our picture galleries (including museums, motorshows and various events).
Wallpapers/Desktop Backgrounds of numerous Fiats also available to download.
---
132/Argenta comment form
---
Your Comments
Our family which consists of die hard Fiat enthusiasts, has a Fiat 132 1600 GLS (1979). This car has served us for over 2 decades and we love it. She is beautiful and faithful, truly a part of the family. We will be celebrating her 21st birthday on August 3, 2000. This message comes from India. Cheers
I´ve had my Argenta 120ie (1985) since ´93 and its a true pal of mine, though some heavy restoring have been required.. mainly rust. Now a really cool car, great for long trips with a huge boot and cosy quiet cabin, reliable mechanics (208000km), strong engine (top: 193km/h) but still low fuelconsumption (never ever over 1 litre/10km). The big joke is that everyone thinks this Fiat is a BMW. Won´t ever sell it. (Per, Sweden)
My father owned a fiat 132 1800 GLS from 1976 to 1987, and ran 135000kms with it. I have very good rememberances about this car. My father's was fitted with an optional 3 gears automatic gearbox, and as far as i can remember accelerations were very good : from 0 to 100 km/h in 12.3 sec. Its maximum speed was around 170Km/h, and in normal use, it ran 32 mpg. According to my father, the engine was a delight, as well as very reliable, brakes, roadholding, accomodation, seats and equipement were quite good but rear suspension was hard, the boot oddly shaped,the steering really heavy, and the whole body was very much in love with RUST.
We used to have a caravan, and we travelled down to Morocco in summmer 1980, we went to east Europe in 1983 without any problem.
Apart from rust, the problems we had concerned the exhaust, which needed to be changed every 30000 miles, and the head gasket, because of an under-skilled mechanic. The 132 was replaced in 1987 with a turbo DS Ritmo ( Stada ). (Stéphane, France)
Hi, I got my driving license in 1997 and have been driving my Argenta since then and I love it! It has always worked perfectly and now as I have rebuilded it, it looks really great too... I have 17" Compomotive racing wheels, and new paintwork, (British racing green), also a little bit tuned engine (165hp), I´ve got nothing to complain!! Thanks for great page, (J, Finland)
I have an Argenta with an Abarth engine, the fuel system is Argenta i.e,and the engine is new.(2000kilometers)I have MOMO Corse seats,an I have disc brakes on the rear axle too. I love my car!!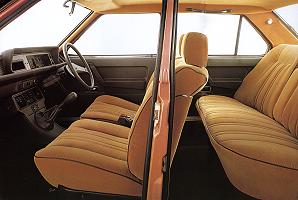 Magic car: I will never forget you!! I cry from the moment I don't have you any more... (Dario.)
I collected our 132 1600 GLS in 1973 in Torino and delivered it to my father in Rome. He brought it back to India in 1975. It has travelled from Kashmir to Kanyakumari in the last 26 years. What a car!
I have a 1981. FIAT 132 2000 and i'm in love with my car.The car is great altough i have some problems with rust.I've got it since 1999.Before that i had a FIAT 131 1600TC which was a great car too. (Franko, Croatia)
Hello, I bought a 132 GLS in the UK in 1975. Drove it around the U.K. and Europe for a couple of months and then spent 1976/97 with it in Algeria. Most of the travel was done on country roads at an average speed of 140 Km/hr. Top speed was 180 km/hr - even with 8 large passengers. The car never caused problems for 80,000 kms apart from cleaning the carburettors from dirty fuel and a problem with the clutch cable support. I shipped to Australia in 1979 where my parents ran it for three years. Unfortunately srevicing this car was a problem for them although they loved it. One of my favourite cars and I have had plenty. (Beano, Australia)
I'm from Poland and i have Argenta 2000 ie for 5 years. Its a great car, really hard to damage in our REAL defomed roads. It looks very classical and style in our too modern & styleless world. Comfortable and easy to repair for a young driver. Now my argenta is in the hand of my girl and she like this car too. She even help me to fight with the rust and keep the car in good condiotion. The problem is that we are poor students but this car is really cheap to usage. DONT WRECK THEM. RESTORE GOOD THEM . (Andrzej B, Poland)
---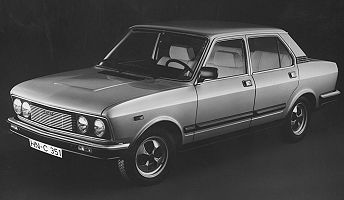 Use the buttons at the top to navigate further, or
---
Copyright © 2000 to 2008 CarsfromItaly