Fiat 125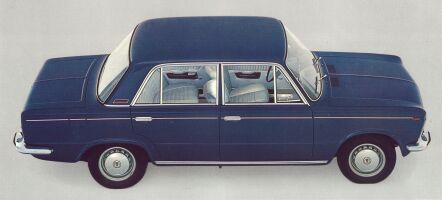 1967 saw the introduction of the new 125. The chassis was based on that of the outgoing model, the 1300/1500, the body was a further (lengthened) development of the 124, whilst the engine was derived from that in the 124, a 1608cc dohc with 90bhp. In the following year the 125S (Special) was added to the range, with 100bhp (from a modified cylinder head, camshaft and inlet manifold) and a five speed gearbox. A variety of other improvements were made including improved trim and styling.
The 'Special' was facelifted in 1970 when a more cosmetic rework improved trim and some styling details. A three-speed automatic transmission also became available as an option.
Production ceased in 1972 when the 132 was introduced, a total of 603,877 cars having been built. Elsewhere around the globe the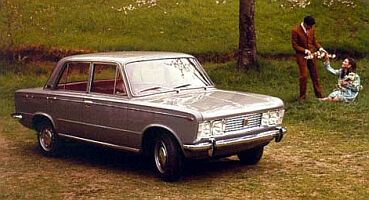 125 continued to be produced. These included South America, where production continued until the 1980's and included estate and coupe versions, Poland (under the FSO name were developed also estate and pick-up versions and later a five door coupe, the Polonez) and Egypt.
An interesting variant was made by dealers in New Zealand for motorsport which had larger valves, two twin 40DHLA carburettors, different camshafts and a higher compression ratio to produce about 125bhp. Unfortunately only 84 were modified before Fiat headquaters found out and stopped this venture.
Other versions were built by Moretti, who made the 125GS 1.6 with styling similar to the Fiat Dino Spider, Zagato, the 125Z, Savio, who produced a 125 Coupe and Station Wagon, Pininfarina, who designed a 125 Executive and Vignale who produced the Samantha, a two door coupe with pop-up headlights.
---
---
Technical Details

Driveline
longitudinal engine at front with rear wheel drive
Engine
1608cc (80x80mm) dohc in-line 4-cyl with 90bhp @ 5,600rpm
with 100bhp @ 6,200rpm in the 'Special' from 1968
The lubrication system
Suspension
front : independent with telescopic dampers and torsion bars
rear : live axle with telescopic dampers and leaf springs
wheelbase : 2505mm
track (front/rear) : 1313mm/1291mm
Brakes
front : discs, diameter 227mm (caliper cylinder bore 48mm)
rear : discs, diameter 227mm (caliper cylinder bore 38mm)
dual circuit on Special, early basic cars had single circuit.
handbrake operating on the rear via a cable
Gearbox
4 or 5 (Special) speed manual
3 speed automatic
single dry plate clutch, diameter 200mm
Steering
worm and roller
3.25 turns lock-to-lock
turning circle 10.8m
Kerb weight
125 : 1030kg
125 Special : 1055kg
distribution (Special) : 64% front, 36% rear
Capacities
fuel tank : 50 litres (early base cars 45 litres)
Cooling system : 7.5 litres
Oil sump & filter : 3.75 litres
Transmission : 1.65 litres (5 speed) or 1.35 litres (4 speed)
Rear axle : 1.45 litres
Hydraulic brake circuits : front 0.18 litres, rear 0.22 litres (early single circuit brakes 0.30 litres total)
Dimensions
125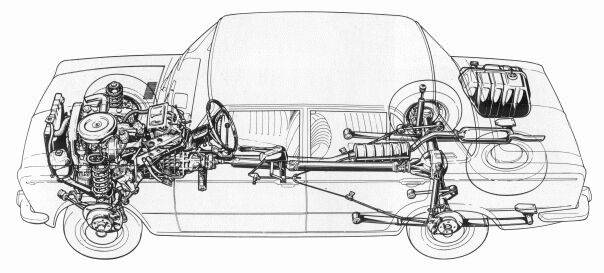 Click here for the origins of the Fiat 125 bodyshell.
---
---
Performance

| | | | | |
| --- | --- | --- | --- | --- |
| model | max speed | 0 - 100 km/h | standing km | braking from 100 km/h |
| 125 1600 (1967) | 160 km/h | 12.0 sec | 34.0 sec | 56.7 m |
---
---
For books on Fiat see our Online Bookstore
There is also a list of all our picture galleries (including museums, motorshows and various events).
Wallpapers/Desktop Backgrounds of numerous Fiats also available to download.
---
125 comment form
---
Your Comments
I owned 2 125 in the mid eighties and they were unbreakable. I did have a bit of head gasket problems and a little bit of rust but alround the dynamics of the car saved me many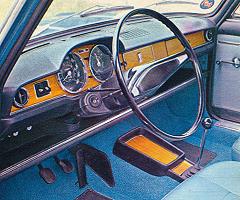 times in my early driving (read way too fast) times. The interior space was amazing for a medium car and the boot was huge. If I could find a really good one I would grab it without hesitation.(John M., Australia)
I had a Fiat 125S model '78; I remember its toughness, its comfort, and above all, its fantastic twin cam, the best engine that Fiat has got. (Alejandro P)
125 are the best cars in this small performance cars for there time and still pack a punch!!
I just cannot tell you how much I love my 125. I own 125p built in 1971 and wouldn't change it for any other car. (Damian, Poland)
I have owned a 1968 Fiat 125 for the past 5 years and in this time have fully restored the car and replaced every concievable part, it now has a 2 litre motor, 5 speed gearbox, completely new suspension and interior, its the best car I have ever owned and I doubt I will get rid of it for a long time yet.
My family drove a 125 for 17 (seventeen, yes) years, namely from 1969 to 1986. It never broke down and we considered it a member of the family. Fast, powerful and reliable. Many people could not believe we did not repair it secretly by night from time to time. Absolutely the best big Fiat ever. (Sasa, Croatia)
My dad has had a 125 Fiat since the mid 80's and no doubt it's an excellent machine. He only puts gas on it, changes the oil every 6000km, and that's it. My dad does not believe in preventive maintenance, and with the Fiat as it is, nobody can argue with him. This may be the only car that can withstand such severe conditions! (Tomas M, Colombia)
I bought my 125 in 1969, it is a 1968 model. In 1971 i modified it to stage 2, including cams, head porting and twin sidedraft 40DCOE weber carburettors. Since then the car has done more that 200000 miles and I have overhalled the engine twice, the gearbox once and the diff once. The motor is still the original 1608 TC motor. This car has pluued a caravan, drag raced and been uses by both of my daughters to learn how to drive. It has never been envolved in an accident. I am planning to restore it completely this year. I love my FIAT 125! It is my project.
I owned one back in 1977 125p when I was in Pakistan. Due to the high price of fuel, I was foreced to add and LPG kit which I might add gave Tons of starting and idling because the fuel had a lot of high carbon and would clogg the idler which required constant TLC. Once I got rid of the LPG kit it was the smoothest engine, not the fastest, one piece dash board, just like the 1500B had. In any event I loved the car, wish I would find one in Los Angeles. I had also owned a 1800B which was a stunner. I cant believe it was only 84BHP engine, and the brake sysyetm would stop on a dime.
---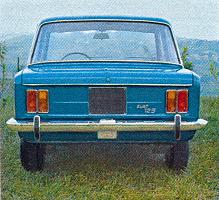 Use the buttons at the top to navigate further, or
---
Copyright © 2000 to 2008 CarsfromItaly