Fiat Regata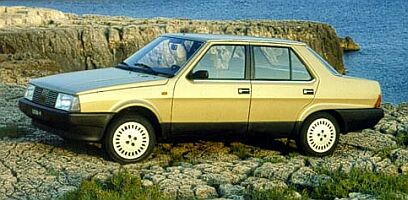 The Regata, released at the Frankfurt Motorshow in September 1983, was developed from the Ritmo/Strada and utilised almost all the mechanicals, although the wheelbase was stretched slightly. A conventional four-door three-box design, it bore very little external resemblance to the Ritmo.
The engines offered were also similar, being the 1301cc with 68bhp (Regata 70) and 1498cc with 82bhp (Regata 85) sohc engines, a 1585cc with 100bhp (Regata 100) dohc engine and two sohc diesels, a 1714cc unit with 58bhp and, from 1984, a 1929cc with 65bhp. A model refined to reduce fuel consumption (the ES or 'Energy Saving') was also available. It featured some detail modifications to the aerodynamics, an optimised (higher compression ratio and different valve timing) 1301cc engine (65bhp), an engine shut-off system (when idling) and electronic ignition.
The 'Regata Weekend' was introduced in 1984. An estate version, it was powered by the 1.3 and 1.6 petrol and both diesel engines. Replacing the 131 Panorama, it featured a folding rear bumper, thus enabling easier access to the load area. The suspension and brakes were uprated to cope with the extra weight.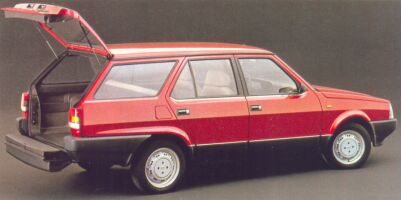 A 'mid-life-update' was carried out in 1986 in which numerous small details were changed (such as the door handles). The 1585cc engine gained fuel injection to become the 100ie (also available with a catalyst, losing some power and becoming the 90ie) whilst a catalysed and injected 1498cc unit powered the 75ie. The '85 Automatic' was also replaced by a 1299cc (65bhp) powered '70 Automatic'.
The diesel models, both saloon and estate, also changed slightly. An 80bhp 1929cc turbocharged and intercooler engine was introduced whilst the 1714cc unit dropped in capacity to 1697cc (but gained in power to 60bhp and reduced fuel consumption). The weights were also reduced slightly.
Production ceased in 1990, when the Tempra was introduced.
---
Technical Details

Driveline
transverse engine at front with front wheel drive
Engine
1301cc (86.4x55.5mm) sohc in-line 4-cyl with 68bhp @ 5,700rpm
with 65bhp @ 5,800rpm in the 'ES'
1498cc (86.4x63.9mm) sohc in-line 4-cyl with 82bhp @ 5,600rpm
with 75bhp @ 5,700rpm in some applications
1585cc (84x71.5mm) dohc in-line 4-cyl with 100bhp @ 5,900rpm
with 100bhp @ 6,000rpm when fitted with fuel injection (100ie)
1697cc (82.6x79.2mm) sohc diesel with 58bhp @ 4,500rpm
1929cc (82.6x90mm) sohc diesel with 65bhp @ 4,600rpm or 80bhp @ 4,200rpm when turbocharged
Suspension
front : MacPherson strut with telescopic dampers and coil springs plus anti-roll bar
rear : independent
wheelbase : 2455mm
track (front/rear) :
'70' : 1387mm/1389mm (Super 1396mm/1389mm, Auto 1400mm/1395mm))
'85', '100' : 1403mm/1389mm
'Weekend' : 70 1398mm/1380mm, 100Sie 1403mm/1389mm, D 1402mm/1380mm, DS 1404mm/1380mm, Turbo DS 1402mm/1385mm
diesel : 1389mm/1389mm (DS 1399mm/1389mm, TDS 1402mm/1389mm)
Brakes
front : discs, diameter 227mm on base models (70 & D), 257mm on all others
rear : drums, diameter 185mm (all models)
handbrake operating on the rear via a cable
Gearbox
5 speed manual
3 speed automatic
Steering
rack and pinion
Kerb weight
70 : 890kg
100S ie : 970kg (1020kg with airconditioner)
Turbo DS : 1050kg
Dimensions
Estate and saloon.
---
Performance

| | | | | |
| --- | --- | --- | --- | --- |
| model | max speed | 0-100km/h | standing km | braking dist from 100km/h |
| 100S ie | 179 km/h | 10.7 sec | 32.8 sec | 58.1 m |
| Turbo DS | 175 km/h | 12.4 sec | 34.2 sec | 48.3 m |
---
Tuning
There are three main areas to concentrate on, the engine (and transmission), the brakes and the suspension and then various other details. These three should be done together since they complement each other, not all of one and none of another !
1. The engine.
Before modifying the engine it is worthwhile filling it with a good quality synthetic oil and fitting new spark plugs. An engine oil additive may also be used.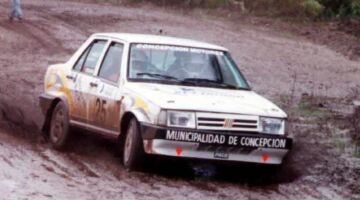 The first improvements are relatively simple. The air filter can be replaced for an aftermarket item which will help the engine breathe more freely, the type which completely replace the original airbox are best, and the exhaust can be replaced for one which will restrict the exit of the gases less. The whole system should be replaced, not just the rear section.
The main modification (outside of taking the engine apart) is to fit a better carburettor. For the sohc versions, twin downdraught DCNFs are possible, whilst for the twin cams 40 DCOE's are a good choice. Downdraught setups are also possible, but the sidedraught one is to be preferred. A camshaft will also provide a noticeable gain, especially if fitted in conjuction with the carburettor.
Other things to do should include fitting a cold air intake, a large diameter pipe (minimum 5cm) to provide air from outside the engine bay to the air filter. The exhaust manifold can also be lagged with thermal cloth or tape to keep the exhaust gases hotter (and thus reduce back pressure) and also to keep the underbonnet (and hence intake and fuel) temperatures lower.
The high tension leads can also be replaced with performance ones.
Further modifications require the machining of the cylinder headand/or cylinder block (which will not be dealt with here since it is not normally a DIY job) after which it may be worth fitting an oil cooler. If overheating is a problem due to the increased power output then a small hole can also be drilled through the plate in the thermostat.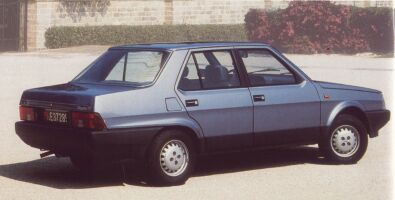 Regarding the transmission the main requirement is to uprate the clutch to handle the increase in power and torque achieved though the engine modifications. Friction plates can be purchased with improved materials and heavier duty pressure plates are also available. Whilst doing this it is worthwhile lightening the flywheel.
2. The brakes.
Initially it is relatively easy to replace the brake discs with drilled and grooved items, and the pads for a harder compound. The latter should not be too hard (ie no race pads on the road) or they will not function effectively at the normal 'road' operating temperatures. Stainless steel braided flexible hoses will improve the pedal feel and reduce the chance of damage whilst DoT5 fluid (not silicon) will increase the temperature at which it can operate effectively. If the brakes are getting too hot the dustguards can be removed and/or ducts fitted, taking air from behind the front bumper.
If more serious braking is required the next modification would be to increase the disc size. It is possible to use larger discs with a bracket allowing use of the production callipers, or alloy four pot callipers can be fitted.
In order to improve the balance of the car under braking it is desireable to be able to adjust the balance of braking from front to rear (and vice versa). This can be accomplished by fitting a bias valve in the line to the rear brakes, usually in a position so that it can be reached from the drivers seat.
3. The suspension.
The easiest improvement,and the one which will probably bring the single most noticeable change, is to replace the dampers and springs. Fitting lowered springs will improve the cornering, but must be fitted together with shortened throw dampers, or else the
springs may unseat ! Top adjustable dampers are compromised, but are good for road and track day cars since it allows the suspension to be adjusted between these two, rather different, requirements. Coil over units add more adjustability and can be purchased outright, or can be made from standard dampers by welding a threaded sleeve to the standard tube.
There are then two other main suspension aims; to reduce the flexiblity in the suspension and to increase the stiffness of the car, both of which aim at more accurate control of the wheel movement. To reduce the flexibility it is possible to fit nylon bushes instead of the normal production rubber items, or if perfection is desired the suspension can be fitted with metallic bearings (rose joints / rod ends). Spherical bearing top mounts can also be used. To stiffen the car it is most popular to fit strut braces. These can be fitted to the front and rear. For more extreme cases a rollcage can be fitted.....
Into this category also fall the choice of wheels and tyres. With an increase in power it can be necessary to fit larger tyres (thus requiring larger wheels) but the temptation to fit the biggest possible should be resisted. Consideration should be given to fitting a wider tyre on the front (since they provide traction and steering) but keeping the standard, or a wider but not as wide as the front, tyre at the rear. This will improve the balance of the car.
4. other things.
Other modifications worth considering include fitment of a shift light (and rev limiter if there is not one as standard), higher power bulbs in the headlights (if you are going to go faster you need to see further) and installation of a quicker steering rack.
---
Buying / Selling
Some tips to do before selling : (they may seem obvious, but most people don't do them and thus are in a weaker bargaining position)
Tidy inside the car thoroughly : hoover the floor, empty all pockets, ashtrays (wash), glove compartment etc..., wipe the trim with a
damp cloth, give the cockpit a good airing to get rid of any odours ! Reset the trip meter to 00000 - it is a pleasant (subconcious) surprise.
If the car has been standing give it a good run - this will clear out the engine (reduce exhaust smoke), put a shine on the brake discs and loosen up any joints that may otherwise make some noises.
'Back to black' products are very effective at temporarily restoring bumpers and trim. This makes a big difference to any car. Do it a week before you expect people to view the car, otherwise it may be a bit too obvious !
Jetwash under the car, especially under the engine and in the wheelarches. The prospective buyer may be an enthusiast, and this makes it easier for them to see what they want to check.
Obviously wash the car and clean the windows !
If you are going to buy a car always check the following :
The bodywork should not be a major issue, but check around just in case, especially on early cars (before around 1986). The wheelarches, suspension and engine mounts, sills, door pillars, scuttle panel and the floor can be easily inspected. If a sunroof is fitted check around the edge. Check that there are no mismatching panels, large areas of discolouration or signs of fresh paint. Compare the paint colour in the engine bay with that of the exterior.
Check for a damp carpet or the presence of mould - if the carpet is damp then the floor is almost certainly corroded.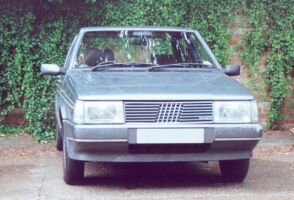 Check the main electrical functions - wipers, windows, lights etc... try putting the main beam and wipers on at the same time. Check the headlight reflectors for rust.
Check the brake pedal does not go to the floor if pressed hard for a long time and check the gearchange for clean engagement.
The engine should be run up to temperature, check the exhaust for smoke (especially on the turbo models), the condition of the breather (look for mayonaise), the condition of the oil filler cap (again white deposits can indicate a head gasket problem...) and the colour of the coolant (preferably not brown!). If the car has an oil pressure guage this should not drop below 1 bar at idle, and should be around 3 to 4 bar at speed. Listen to the noise of the engine, then depress the clutch and engage first gear. Whatever noise has disappeared was coming form the gearbox, what remains is from the engine. Check the condition of the engine oil using the dipstick. It should be a lovely golden -brown, darker is also ok but avoid the black stuff (except in dieels where this is the norm).
Check tyre wear, uneven patterns could imply a bent chassis.
Always take it for a test drive. Check that the car tracks in a straight line with no steering input. Find a large open area and complete several lock to lock turns (also in reverse), listening for any noises. Try the handbrake when moving - seized rear callipers will mean uneven braking or no braking.
---
Fiat Regata Workshop Manual : buy it online here (in association with Amazon)

For more books on Fiats, see our Online Bookstore
---
Regata comment form
---
Your Comments
I passed my driving test on the family Fiat Regata 70 Weekend, and it was the first car I really drove. It was a real tank, tough and with loads of room, even if I admit that the 1300 engine was a bit sluggish. It never gave any serious mechanical problems. The Regata is a car that if reasonably looked after can go on for years, but just one thing: watch out for rust! (Patrizio C., Italy)
The Fiat Regata is a robust car, and still produced in Turkey under the names Sahin, Dogan and Kartal (SW Model) by TOFAS-FIAT. (Tolga, Turkey)
I have a Regata 85 we mod.87, and I love her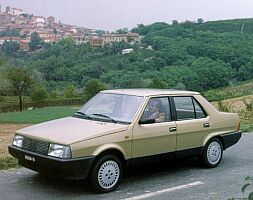 I've owned my Regata since learning to drive about four years ago. It's a excellent car, no major mechanical issues at all despite its age. Sadly, due to body rust, I will probably have to find a new car in the next 12 months. I will consider myself very lucky if I ever find another car anywhere near as reliable as my Regata. (Martin, England)
1.6 engine was tough as nails and could take a lot of stick, sounded great well up into the revs, but ultimately it won't be mechanical failure which will kill your Regata it will be rust. (Steve C, UK)
My father did 400,000 with a Regata D. (Alessio, Italy)
This week we brought our Regata 70 to a car-breaker's yard. It is mechanical a good car. We never had engine trouble. Never before we owned a car so many years as this one. But because of rust all over the car, in spite of we touched her up many times, we had to say her goodbye. The 1300 engine is, when used right, pretty quick. And the twin choke carburettor sure participates good in that acceleration. I had lots of fun driving and sometimes racing this car. (Siegbert P, Netherlands)
I owned a 1988 Regata with a 2000cc DOHC engine. It was a special version for the Venezuelan market and featured standard leather seats, air conditioning, power steering, power windows/locks and other luxuries. Obviously, the most important equipment was that jewel of an engine. It was a high compression (9.7:1) version of the famous Fiat/Lancia 2000cc DOHC engine, with electronic DIGIPLEX ignition and double-barrel Weber carburetor. It was rated at 105hp but most importantly, it offered enormous amounts of torque at low revs for great pick-up and acceleration. Unlike engines tuned for low-rev torque, that little motor would rev its heart out and pull hard from as low as 1500RPM right to the redline (sadly "just" 5500RPM), with wonderful sounds too.
The other great aspect of the Regata 2000 was its handling. The somewhat harsh suspension made up for it by providing the Regata with delicious and neutral handling that was both predictable and very agile. The steering was very precise and progressive, with good feel. An example of this car's thorough engineering was its equal-length drive shafts, which eliminated torque-steer, so the steering remained stable even when accelerating hard out of a sharp turn.
More relaxed aspects of my Regata 2000 were the spacious interior, with great leg room in the back and comfortable seats all around.
My Regata 2000 has been my favorite car and I miss it greatly.(Cesar, Venezuela)
I am the second owner of an original 100sie from the factory.Red in colour, brilliant motor, braking & handling but so so sadly the Rust is winning the campaign against me. (HK, Australia)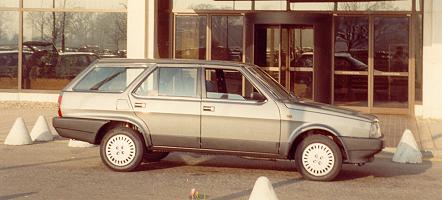 I have a pair of 100S Regatas, one driven by me and one by my daughter. Good points are performance, handling and comfort. Bad points are rust, the electrics (mainly the little things) and more rust. With the electrics it is not the basic ignition system etc. Unlike older Fiats it actually works in the rain, but the things like the electric windows and central locking which seem to have minds of their own. Overall though they are excellent cars. (Tony, Australia)
Hello I have just bought a Regata S 94 and it is fantastic. It is the fastest car, I just love her. In Argentina they were produced since 1985 until 1994. Regata is the greatest car. (Gabriel, Argentina)
I own a 1989 Regata 100 si.e., i love the car for istīs stile, handling and performance, since I drive it thereīs no mayor problem with the engine, and Iīd never changed a single light bulb because itīs excellent electrical sistem. (T.L. Spain)
I bought my Regata 85 (year model 1985) a little before I passed my driving test in 1995. Car was cheap and the parts are cheap too. Engine and other technichs have proved very reliable in use.
Actually last friday I drove 700 km trip with my Regata and before that it had spent a year in forest in northern Finland (the hard Finnish winter couldn't tear it down). It is also a very warm car in winter (believe me the winters are very cold here). Regata's performance and handling are also exellent. I did humiliate many Corolla (and many other car) drivers at traffic light GPs after I got my driving license ;-)
Only problem with Regata seems to be rust. But rust is a problem with every car in our weather conditions. Regata is absolutely great car and I intend to keep my Regata going as long as I live ;-) !!! (Raine, Finland)
I own a Regata 70 Weekend and dispite the lots of rust the engine just made a trip around Europe! I learn to drive in it and now it has 240.000km and sounds like a "watch" :)! This is an "iron made" car! they don't make them like that anymore! (Diogo C, Portugal)
Great motor, the handling is amazing, just point the wheels floor it and go! Yes the rust is getting the better but its 15 years old and close to 100,000 miles. Highly reccomended as a cheaper alternative to your mainstream 80s cars. (Barry, UK)
---
There is also a list of all our picture galleries (including museums, motorshows and various events).
Wallpapers/Desktop Backgrounds of numerous Fiats also available to download.
---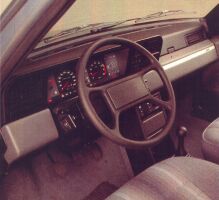 Use the buttons at the top to navigate further, or