New Lancia Ypsilon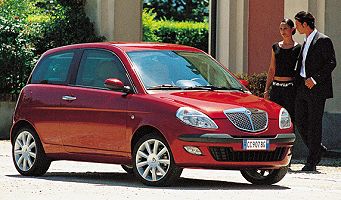 The replacement for the original Ypsilon, the New Ypsilon was introduced late in 2003. As was its predecessor, it is based on the Fiat Punto platform and powered by similar engines from the FIRE range.
Apart from the technical similarities, however, the New Ypsilon is even further removed from its Fiat cousin than was the earlier car of the same name. A totally new exterior and interior design was agian biased towards luxury, but with more changes and a bigger push for a 'quality' feel, both with materials (including Alcantara and leather) and with style.
Four engine options, the 1.2 8v and 16v units as earlier, plus the new 1.4 16v unit and the highly acclaimed 1.3 16v MultiJet turbodiesel, are available to power the New Ypsilon, driving through two transmissions. One is a conventional 5-speed manual unit, whilst the other is a manual 5-speed box with a robotised changing system (called 'DFN' or 'Dolce Far Niente'), ie a clutchless change where the shifting is done by a hydraulic system, either on command of the driver,
or when the computer decides, depending on the drivers choice. Two trim levels are available, as well as a huge variety of options enable personalisation of the car to suit any taste. Amongst the latter are the full glass roof, known as 'Skydome', dualzone climate control, up to six airbags and a wide variety of internal colours and materials.
First in 2003 as a concept, and then in 2004 for production, Lancia unveiled two-tone versions (known as the B-kini) and further variations on the interior trim to increase the possibility of personalising the car. A small number of limited editions, mostly using different body colours and matching interiors, were also made.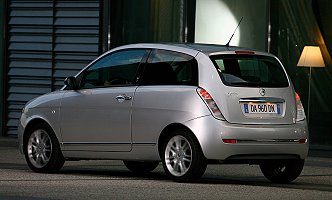 At the Geneva Motorshow 2005, the Lancia Ypsilon Sport Zagato was shown. A concept, this first introduced sportiness to the Ypsilon, with an overtly aggressive design and sporting overtones, as well as a 150bhp MultiJet diesel engine. See the Ypsilon Sport at the show or view an animated video of the car.
In 2006, at the 63rd Venice Film Festival, Lancia introduced a heavily revised New Ypsilon. This was a complete revision of the car, including the interior, exterior and mechanicals. Externally there were changes to the front and rear bumpers and light units, as well as a much extended colour range of 15 colours plus a further 9 'b-colori' two-tone colour schemes. Internally the colours, materials and details were revised. Four trim levels were introduced, including a sporty 'Oro Bianco' option. In terms of engines, the new car has the option of the original 60bhp 1.2 8v, whilst a new 77bhp 1.4 8v and revised 95bhp 1.4 16v (with a six speed gearbox) replaced the older 16v units. In terms of diesel engines, the new car has two options, a 75bhp 1.3 16v MultiJet or a 90bhp version of the same engine. Both can be fitted with particulate filters as an option. The DFN semi-automatic transmission can be fitted to both diesels and the 1.4 16v petrol engine.
See a video of the New Ypsilon here (2.2MB).
Wallpapers/Desktop Backgrounds of the new Ypsilon are available to download.
| | |
| --- | --- |
| | |
---
---
Technical Details

Driveline
transverse engine at front with front wheel drive
Engines
1242cc (70.8x78.86mm) 8v 4 cylinder dohc with 60bhp @ 5,000rpm
1242cc (70.8x78.86mm) 16v 4 cylinder dohc with 80bhp @ 5,000rpm
1368cc (72x84mm) 16v 4 cylinder dohc with 95bhp @ 5,800rpm
1248cc (69.6x82mm) 16v 4 cylinder dohc turbo diesel with 70bhp @ 4,000rpm
New Ypsilon (from 2006)
1242cc (70.8x78.86mm) 8v 4 cylinder dohc with 60bhp @ 5,000rpm
1368cc (72x84mm) 8v 4 cylinder dohc with 77bhp @ 6,000rpm
1368cc (72x84mm) 16v 4 cylinder dohc with 95bhp @ 5,800rpm
1248cc (69.6x82mm) 16v 4 cylinder dohc turbo diesel with 70bhp @ 4,000rpm
1248cc (69.6x82mm) 16v 4 cylinder dohc turbo (variable geometry) diesel with 90bhp @ 4,000rpm
Suspension
front : MacPherson strut with telescopic dampers and coil springs plus anti-roll bar
rear : independent with telescopic dampers and coil springs plus anti-roll bar
wheelbase : 2388mm
front track : 1450mm
rear track : 1440mm
Brakes
front : discs, diameter 257mm (ventilated except on 1.2 8v)
rear : drums, diameter 203mm
handbrake operating on the rear via cable
dual hydraulic circuit with servo assistance
ABS
Gearbox
5 speed manual or semi-automatic (clutchless)
6 speed manual (1.4 16v from 2006)
Steering
Rack and pinion with electric power assistance
Dimensions
length / width / height (mm) : 3810 / 1704 / 1530
---
New Ypsilon comment form
---
Your comments
I live in the UK where I have a Lotus Elise S2 111S. I go back to Greece quite often where I have a 2004 Ypsilon 1.4 DFN (sequential robotised gearbox). After buying the Elise no car makes me smile except the Ypsilon. Every time I sit in it, it makes me feel that I am driving a special car. It is one of the most beautiful, classy cars on the roads and it is very well built.
Everything in the interior is alcantara and you can get equipment normally associated with larger cars. The interior space is very good for its size and the seats are very comfortable.
On the road, it is quite fast(again for its class) with very strong brakes and the DFN box is amazing. Whoever decides to buy this car, DO BUY THE DFN. Handling wise it is good for its class, with plenty of grip and traction but I would like a bit more feedback. I test drove most of the cars of its class and it easilly came on top of my selection. As you can tell I love it and it is a shame that you cannot buy it in the UK. (Lotusnick, UK & Greece)
---
For books on Lancia see our Online Bookstore
There is also a list of all our picture galleries (including museums, motorshows and various events).
See also our Lancia advertisements gallery, where several old adverts can be seen.
---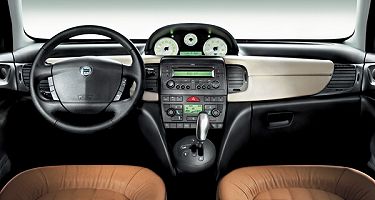 Use the buttons at the top to navigate further, or
---
Copyright © 2000 to 2008 CarsfromItaly