Here are very brief comments on some of the companies not yet covered by our site. We aim to gradually add individual pages for each of the following (plus the others which are not listed here) :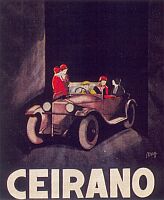 The Ceirano brothers (Giovanni Battista, Giovanni & Matteo) were all significant figures in the early years of the Italian automotive industry.
The first company to bear their name was founded by the eldest brother, Giovanni Battista, at Turin in 1866 to built bicycles. In 1898 this company was renamed 'Ceirano & C' and in the following year the first car, a 3.5HP two cylinder Welleyes design, emerged. In that same year Ceirano sold his company to a group of investors who formed the Fabbrica Italiana Automobili Torino (or FIAT). He remained in the new company for around one year, after which he left and, together with his brother (Matteo), founded a new company 'Fratelli Ceirano', again at Turin. In 1903 Matteo left and formed 'Matteo Ceirano & C', still in the same street whilst in 1904 Givanni Battista wound up the 'Fratelli Ceirano' concern and formed STAR (Societa Torinese Automobili Rapid).
1904 saw Matteo's company renamed 'Matteo Ceirano & C - Vetture Marca Itala', otherwise known as Itala. Matteo left this latter company the following year in order to form, together with Ansaldi, a company called Ceirano-Ansaldi which then led to the formation of SPA in 1906.
Going back to 1904 and the next brother, Giovanni, founded 'Ceirano Junior & C', again in Turin. The following year saw the name change to 'Junior Fabbrica Torinese Automobili'. In 1906 it employed around 50 workers and produced 130 cars. That year also saw Giovanni leave the company to found SCAT. After the first world war Giovanni and his son, Ernesto, founded 'S.A. Giovanni Ceirano'. After a few years of competition Giovanni also took control of SCAT, and in 1925 the cars began to be built with the name 'Ceirano' replacing SCAT.
---
Another car using a large American V8, the 'Nembo' emerged in 1966 using a 7000cc 'Competition Proven' Ford unit. Constructed by Neri and Bonacini at Modena, the chassis was a tubular structure whilst the body, constructed by the same company, was visually almost identical to the Bizzarrini 5300GT Strada. Independent suspension all round was fitted, as was a limited-slip diff.
A couple of years later, in 1968, Neri revealed a pretty two seat coupé which used a chassis with a central structure of pressed steel panels with front and rear tubular sections to support the suspension and engine. The latter was mounted centrally, the only information being stated 'it could be fitted with engines up to 2-litres'. The wheelbase was 2350mm and independent suspension was fitted all round.
| | |
| --- | --- |
| | |
---
Franco Automobili built cars from 1910 to 1912, but the founder, Attilio Franco, had already shown a 4.9-litre car at the Turin Motorshow of 1908. A variety of vehicles were produced for the couple of years which the company existed, but it is best known for the 1910 victory of the Targa Florio. The winning car used a four cylinder 6.8-litre engine.
---
The MM4700 first emerged in 1967. Powered by a 4.7-litre V8 engine from the Ford Mustang the remainder of the mechanical parts came from the same donor. The body was designed by Michelotti and covered a tubular chassis but unfortunately nothing came of the project apart from prototypes.
---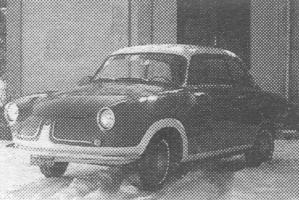 Founded in 1946 near Turin by Giorgio Sargiotti, Monterosa began as a carrozzeria producing special bodies. Their earliest examples were mainly estate cars, including those based on the Fiat 1100, in 1949, and the Lancia Aurelia, in 1953.
The desire to produce their own cars led to the Monterosa 600, based on the Fiat 600 which was offered in three versions, a 2+2 Sport Coupé (also available with Abarth and Stanguellini engines), a standard saloon and a Lusso saloon with large amounts of chrome. Production was undertaken from around 1959 to 1961.
Other offerings from them included an estate based on the 1100 in 1958 and a lightly retouched Appia in the same year. 1959 saw an unusually styled Fiat 1800 Cabriolet whilst one of the last proposals was for a Fiat 1500 Coupé in 1960. The company closed in 1961.

---
In 1978 another small manufacturer was born in Italy. Beginning with 4x4s, Covini went on to produce a mid-engined sportscar with the unusual choice of a 2.4-litre VM turbodiesel engine as powerplant. A Lancia Gamma petrol engine was optional, both units using the Gamma transmission. It was fitted with independent suspension and disc brakes but was not a success and the company expired shortly afterwards.
---
With a body designed by Farina (which resembled the Cisitalia) and a Ford V8 engine it could have been a success, but the car, which was released in 1950, faded almost before it had been born. Very few were built.
---
Another small company born in 1966 offering a front-engined coupé powered by a foreign engine, in this case a unit from either Ford or Lotus. The design was by no less than Franco Scaglione, the name 'Veltro GT'.
---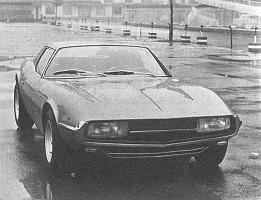 The Turin Motorshow of 1968 saw the display of a new car. Known as the LMX (Linea Moderna Executive), it was designed by Scaglione, whilst the company (in Milan) was formed by Liprandi and Mandelli. Using a 2.3-litre V6 Ford engine (2293cc), either with (180bhp) or without (126bhp) turbocharging, the two seat coupe also used the front suspension from a Ford, this time the Zodiac. Disc brakes and independent suspension were fitted all round whilst the chassis was a separate steel unit with the bodyshell in plastic. The wheelbase was 2350mm and the car weighed 870kg.
Around 50 cars were built before the founding partners left the business. Production continued for another year, the 20 additional cars produced being known as the Sirex LMX. Production ceased in 1974. A small number of Spider versions were also produced.
---

1967 saw the birth of another small manufacturer. Based at Lecce, but with construction facilities at Turin, Siva's first car was a small, mid-engined, two-seat coupé. The engine was a longitudinally mounted 2-litre Ford V6 unit, tuned by Conrero. A top speed of 200km/h with a weight of less than 900kg was promised.



---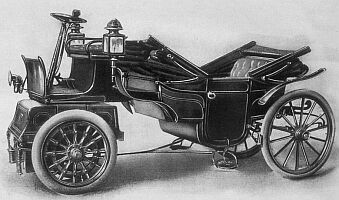 The Fabbrica di Rotabili, Avantreni e Motori started in 1905, building on the knowledge of an earlier company in Rome. They moved to Genova and continued development of their rather unconventional cars. Powered by an electric motors, the car consisted of two parts, the front section with two wheels and the motor and the rear section (effectively a trailer) with two wheels and the seats. They ceased to trade in 1906.



---

Felice Nazzaro, born the son of a coal merchant in 1880, worked for Ceirano as an apprentice and then in 1900 went on to become a racedriver. He won the 1901 Giro d'Italia in a 6HP Fiat, became a works Fiat driver in 1905 and in 1907 won the Targa Florio, the French GP and the Kaiserpreis, all for Fiat.
Like many other successful drivers of the period, Felice also wanted to try his hand at producing cars. Thus in 1911, together with some colleagues (Maurizio Fabry, Pilade Massuero and Arnaldo Zoller), he founded 'Nazzaro & C.Fabbrica di Automobili' in Turin. Initially his name was enough to ensure sales of the first model, the Tipo 2, which emerged in March 1912 powered by a 4.4-litre four cylinder sidevalve engine. In 1913 Felice won the Targa Florio driving one of his own cars, a Tipo 2. A couple of years later an improved model, the Tipo 3 was released, which had some success in motorsport. The organisation, however, was weak and led to the liquidation of the company in 1916, after having produced around 230 cars plus some 50 trucks. Felice returned to Fiat for whom he won the 1922 French GP and then ran their competition department from 1925 until he died in 1940.
After the end of the conflict the company was reborn as Automobili Nazzaro, this time at Firenze. The Tipo 5, a 3.5-litre overhead cam four-cylinder powered car was built in around 210 examples before the company finally gave up for good in 1923. Interestingly, the last Tipo 5s from about 1922 had three valves per cylinder (two exhaust).
---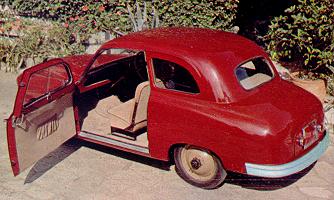 Beretta, Benelli, Castelbarco.
The end of the war saw the Beretta arms concern in Brescia with a large number of emplyoees and facilities non being well utilised. One idea was to switch these to producing motor cars, and so Giuseppe Beretta, with a friend, Luigi Castelbarco, and Giuseppe Benelli, the motorbike designer, put a plan into action in 1948. Castelbarco co-ordinated the project, Benelli designed the air-cooled 750cc V-twin and Beretta produced both the engine and the square-tube frame chassis. The body was built by Rosso, a coachbuilder in Turin.
Three of the front-engined, front-wheel-drive, four-seat, two-door cars were built, predating the styling of the Fiat 1400, albeit on a much smaller scale. Due to other factors, Beretta decided not to proceed with the project, and no more examples were ever produced.
---

There is an index of all our picture galleries (including museums, motorshows and various events).
For comprehensive classic car values see our ClassicCarsfromItaly pages.
---
We have information on many more manufacturers, which will be added to this website in the future. Some such companies include :
Aquila, Ardita, CEMSA, Darracq, Esperia, Fadin, FAST, GAR, Lawil, Legnano, Oria, Panther, SABA, SALVA, SAM, SMB, Storero, TAU, Taurinia, Trayter, Volpe, Zust and many more.
---
If you have any information or know of any links relevant to these companies (or other Italian etceterini) please send it/them in. Your help is always appreciated. Thanks.
---
Comment form
---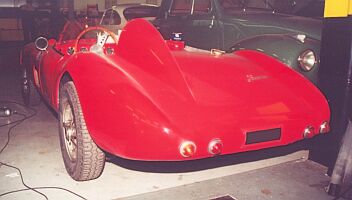 Use the buttons at the top to navigate further, or
---
Copyright © 2000 to 2008 CarsfromItaly