Alfa Romeo Giulietta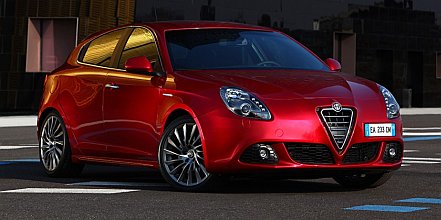 Geneva 2010 saw the launch of the new Giulietta, bearing a classic name of one of the cars which helped write the history of Alfa Romeo. Replacing the Alfa 147 in the range as the compact hatchback, unlike the long-running and highly successful 147, the new Giulietta is only available as a 5-door version. Based on a new platform architecture known as 'compact' (very loosely derived from that of the Fiat Bravo). See images.
The basis of this platform is a conventional front wheel drive layout, with MacPherson strut suspension at the front and a multilink setup at the rear. As with all cars designed in this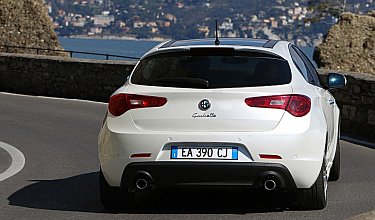 period, safety plays a significant role in the design, and the Giulietta obtained the maximum 5 star rating (87/100) even in the revised (tougher) test introduced in 2009. the other key drivers in the development of the platform were weight reduction and rigidity.
Styled internally by Centro Stile Alfa Romeo, the Giulietta follows the direction first seen in the 8C Competizione. An agressive front with new lighting solutions utilising the latest LED technology, a dynamic coupe-like side profile with concealed rear door handles and a muscular rear end emphasising the positioning of the car on the road. Internally the 8C theme is also repeated, with a horizontal aluminium theme and rocker switches and ventilation control both reminiscent of the 8C. Internal space has been maximised, and indeed the rear leg- and head-room is exceptional. Twin cowled instruments provide the driver with all the necessary information in a traditional Alfa Romeo fashion.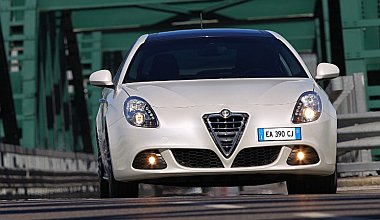 Going back to the platform, the Giulietta was designed with safety as one of the priorities, and this work paid off when it was awarded five stars by EuroNCAP, gaining a total score of 87/100. A whole host of electronic safety aids are fitted, including VDC (Vehicle Dynamic Control, also known as ESP), DST (Dynamic Steering Torque), MSR (preventing wheel locking on throttle release), Electronic Q2 (simulating the effect of a limited slip differential) and prefill (where the brakefluid is pressurised to reduce braking time). Should an accident happen, the structure is designed to minimise the effect on the occupants, with planned deformation and three principle load lines, plus a host of protective equipment including 6 airbags, seatbelts with double pretensioners and load limiters and SAHR (self alighning head restraints).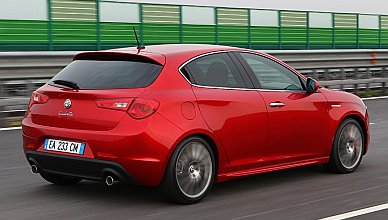 Dynamically, the chassis combines handling and comfort using a traditional MacPherson strut front suspension system, with some aluminium components to reduce the weight, and a new Multilink rear suspension system, also featuring aluminium weight-saving as well as reduced boot-intrusion.
Power is provided by a range of engines, all four-cylinder turbocharged units, both petrol and diesel, with outputs from 105 to 235bhp to cater for every customer demand. the petrol range starts with a 120bhp 1.4 unit, there is then a 170bhp version of the same 1.4 engine and to top the range, a 235bhp 1750 turbo. The diesels lead with a 105bhp 1.6 JTDm which is joined by 170bhp 2.0 JTDm unit. All engines are coupled with 6-speed manual transmissions, all are Euro5 compliant, and all have Start&Stop technology installed as standard. At launch a new dual dry clutch transmission was also announced, known as TCT, featuring fully automatic operation.
The range depends on the market in which the Giulietta is commercialised, but basically contains two normal trim levels plus the Green Cloverleaf, the latter only available with the 235bhp petrol engine. A wide range of options include such things as xenon headlights, various leather trims, numerous alloy wheels up to 18" in diameter, integrated navigation systems, the Blue&Me system (hands free phone plus USB input), etc.
---
| | |
| --- | --- |
| | |
---
Technical Details


Driveline
transverse engine at front with front wheel drive
Engines
1368cc (72x84mm) 16v dohc 4 cylinder inline with 120bhp @ 5,000rpm and 206Nm @ 1,750rpm
1368cc (72x84mm) 16v dohc MultiAir 4 cylinder inline with 170bhp @ 5,500rpm and 250Nm @ 2,500rpm
1742cc (83x80.5mm) 16v dohc 4 cylinder inline with 235bhp @ 5,500rpm and 340Nm @ 1,900rpm
1598cc (79.5x80.5mm) 16v dohc 4 cylinder turbocharged diesel with 105bhp @ 4,000rpm and 320Nm @ 1,750rpm
1956cc (83x90.4mm) 16v dohc 4 cylinder turbocharged diesel with 170bhp @ 4,000rpm and 350Nm @ 1,750rpm
Suspension
front : MacPherson strut
rear : multilink
wheelbase : 2634mm
track (front/rear) : 1554mm / 1554mm
Brakes
front : discs (diameters : 105&120bhp 281mm, 170bhp 305mm, 235bhp 330mm)
rear : discs (diameter 264mm all except 235bhp, diameter 278mm)
Gearbox
6-speed plus reverse manual with dual-cable control
Steering
Rack and pinion (dual pinion) with electric power assist
turning circle : 10.9m
Weights
kerb weight (120bhp/105bhp/235bhp) : 1355kg / 1385kg / 1395kg
Dimensions
length / width / height (mm) : 4351 / 1798 / 1465
---
---
| | |
| --- | --- |
| | |
---
Performance

| | | | | |
| --- | --- | --- | --- | --- |
| model | max speed | 0-100km/h | combined fuel cons | CO2 |
| 1.4 Turbo 120bhp | 195 km/h | 9.4 sec | 6.4 l/100km | 149 g/km |
| 1.4 Turbo 170bhp | 218 km/h | 7.8 sec | 5.8 l/100km | 134 g/km |
| 1750 Turbo 235bhp | 242 km/h | 6.8 sec | 7.6 l/100km | 177 g/km |
| 1.6 JTDm 105bhp | 185 km/h | 11.3 sec | 4.4 l/100km | 114 g/km |
| 2.0 JTDm 170bhp | 218 km/h | 8.0 sec | 4.7 l/100km | 124 g/km |
---

For books on Alfa Romeo see our Online Bookstore
There is also a list of all our picture galleries (including museums, motorshows and various events).
Wallpapers/Desktop Backgrounds of numerous Alfa Romeo's also available to download.
---
Giulietta comment form
---
Use the buttons at the top to navigate further, or
---
Copyright © 2000 to 2011 CarsfromItaly