Fiat Campagnola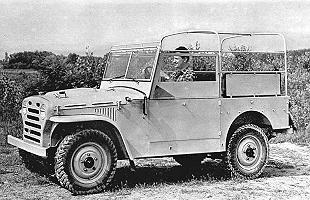 Introduced in 1951, the Campagnola followed the design of the original 'Willy's' Jeep in using a front mounted engine, four wheel drive and an open bodywork. The ladderframe chassis was fitted with independent front suspension and a live rear axle, whilst the drive system was permanent to the rear wheels with a selectable front wheel drive. Two individual front seats and two double-bench seats (one along each side) provided seating for six (image).
It was powered by a 1901cc four cylinder petrol engine (derived from the engine in the 1900) with 53bhp driving through a four speed transmission. Combined with a reduction box, this setup provided exceptional off-road ability. The version produced for the military was known as the AR51 and featured a range of modifications, mainly to simplify the product.
In 1953 a diesel engine, still of 1901cc but with indirect diesel injection and 40bhp (derived from the engine in the 1400), was added to the range. At the same time various revisions were carried out on both the new diesel and the petrol.
In 1955 the Campagnola A was introduced. The petrol version benefited from a more powerful engine, producing 63bhp, thanks to a higher compression ratio, whilst the diesel engine increased its output slightly to 43bhp. Detail improvments to the car were also introduced such as a demister for the windscreen and a change to the lighting. The military version became the AR55, with a lower power version of the new engine, with 56bhp. The range received minor detail again in 1959, with no change in definition except for the military version which became the AR59.
In 1960 the Campagnola B arrived. This was an improved diesel version (the Campagnola A continued as the petrol with no change) with a revised engine producing 47bhp and a variety of other minor changes. The final diesel version was the Campagnola C. Introduced in 1968 this had an engine with a displacement of 1895cc and a power output of 47bhp.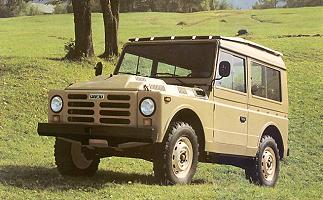 Total production of the Campagnola until 1973 was 7,783 diesel engined examples, and 31,293 petrol engined ones.
In 1974 the all new Campagnola was released, launched in a rather low-key way at the Belgrade Motorshow of that year. This used a 1995cc engine derived from that in the 1.8-litre 132, modified to increase its capacity and to have a single cam in the block. The resulting engine produced 80bhp and drove through a similar layout to the old car, four speed transmission, permanent rear wheel drive, selectable front wheel drive, and a reduction box.
Independent suspension for all four wheels (with torsion bars front and rear) and a load-bearing bodyshell were used. Unusually a double front passenger seat, combined with the driver and four in the rear, provided seating for seven. Numerous typical off-road extras were standard or optional, such as locking differentials on both axles, adjustable lights, various tyre sizes, etc.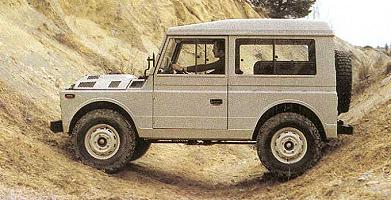 Given the low production volumes of the car, assembly was by Pininfarina at the Grugliasco factory.
In 1976 three additional variants joined the range. The standard length car became available with a hard top as well as the original canvas roof, and a version with a stretched bodywork (an extended rear overhang allowed for three seats on each bench, giving a total seating capacity of nine people) was introduced, both with a soft and a rigid roof. The roof in both long and short versions was a metal affair, with side windows, fixed to the body by bolts, and hence removable. (Visual comparison).
The military version of the Nuova Campagnola emerged in 1976, hence known as the AR76, and featured numerous options designed to optimise its capability off-road. It also featured a slightly less powerful engine with 75bhp.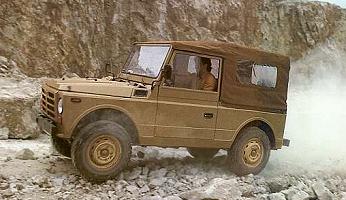 1979 saw the nuova Campagnola receive diesel engines, a 2-litre (with 60bhp) and a 2.5-litre (with 72bhp), both made by Sofim. At the same time all the models (including the petrol engined variants) received a five speed gearbox, the limited slip differential became standard at the rear (previously an option, it remained optional for the front axle) and a variety of other minor improvements. The military version became the AR76A.
Production in Italy continued until 1985, although odd vehicles emerged from the plant until 1987.
The Campagnola was also assembled in Yugoslavia by Zastava in the early 1950's. All the parts were sent from Turin by train, with only final assembly carried out locally. These vehicles were also exported, getting as far as India.
---
Technical Details

Driveline
longitudinal engine at the front with four wheel drive
Suspension
front : Independent, with telecopic dampers, coil springs and anti-roll-bar
front (nuova) : independent with transverse arms, telescopic dampers and torsion bars
rear : solid axle with telescopic dampers and leaf springs
rear (nuova) : independent with transverse arms, twin telescopic dampers and torsion bars
wheelbase : 2250mm (nuova : 2300mm)
front track : 1254mm (nuova : 1355mm)
rear track : 1260mm (nuova : 1404mm)
Brakes
front : drums
rear : drums
handbrake operating on the rear via a cable (early cars had a transmission band brake)
Gearbox
4 speed manual, 5 speed manual from 1979
permanent rear wheel drive, selectable front wheel drive
reduction box
Kerb weight
original : 1250kg
A : 1290kg
nuova : 1570kg
nuova diesel 2.0 short soft-top : 1670kg (1820kg for 2.5)
nuova diesel 2.0 long hard-top : 1780kg (1930kg for 2.5)
Dimensions
click here.
Click here for a cutaway drawing of the nuova Campagnola

---
For books on Fiats see our Online Bookstore
There is also a list of all our picture galleries (including museums, motorshows and various events).
Wallpapers/Desktop Backgrounds of numerous Fiats also available to download.
---
Campagnola comment form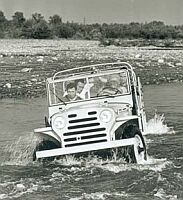 ---
Your Comments
I was an happy owner of a Campagnola 1101A by more than ten years. On this time i went to the more incredible and difficult places for an off-road, without special tires or special equipments. I had sold it because my needs on that time was a closed-cabin car.
All my nexts cars was off-road (Toyotas), with some special equipments (Tires, suspensions, shock absorbers), but never other car make me feel so sure as the Campagnola 1101A. I prove recently an m151A2, is an excelent off-road, but i´m sure that in very difficult situations Campagnola was superior. Today i´m dreaming with the possibility of find an C-1101A in good conditions.
Also me I am a very proud Fiat Campagnola holder, my model was produced in 1961 and it was born as military vehicle however as AR59. I my opinion the Campagnola was during 50 and 60'a revoluctionary, from a technical point of view, car. When I am driving it I feel a particular emotion that is the result a of both hystorical and technic mixing. (Franco, Italy)
---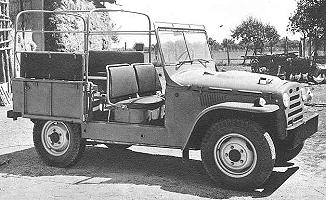 Use the buttons at the top to navigate further, or
---
Copyright © 2000 to 2008 CarsfromItaly