Abarth 1

Abarth cars with unique bodies
On this page are covered cars which had bodies unique to Abarth. Cars which used bodies from other manufacturers (including modified ones) are covered on a separate page.
---
The early cars
The first cars to bear the Abarth name were in fact Cisitalias. 1949 saw the Abarth 204A Spider emerge, with its Fiat 1100 derived Cisitalia engine. The following year saw a coupé version of the same car continue with the formers successes in motorsport. In 1952 a similarly styled coupé designed by Vignale emerged which used a slightly longer wheelbase. The early 1950's saw a series of one-off and low-volume cars being built by various corrozzerie (Bertone, Ghia, Boano, Zagato) for Abarth, with a variety of mechanical origins, including Fiat 1400, 1100, 600, Alfa Romeo 1900 and even one based on a Ferrari Tipo 166. Some French cars were also used as the basis for Abarth creations.
---
Abarth 207A/208A/209A Boano
First seen at the 1955 Turin Motorshow, this was a joint effort by Abarth and Boano to build a car for the US market. All ten cars built were exported there, in three versions, a 'normal' (208A), 'sport' (207A) (pictured below) and a coupé (209A). They were used in a variety of competitions, but did not meet with the success desired.
The chassis was developed by Abarth using box sections, the mechanicals were Fiat 1100 parts modified by Abarth (the 'sport' used a derivative engine of 1270cc with 78bhp @ 5,900rpm) and the body was an aluminium item designed and built by Boano. The car weighed 522kg and was 3620mm long, 1560mm wide and only 940mm high !
A 210A Boano was also built, this being a completely different car based on the floorpan and mechanicals of the Fiat 600. A small two-seat barchetta it was first shown in 1955.
---
Abarth 750 cars
Some of the most famous Abarths had 750 in their title, referring to the (generally) 747cc engine powering the cars, both sohc and dohc engines of that capacity being developed.
Beginning with a derivative of the Fiat 600 which retained the original cars bodywork, Abarth soon produced, in collaboration with Zagato, the 750 Coupé Zagato (see below). Numerous other '750' cars were also produced (albeit in smaller numbers) including two with bodies by Bertone, a coupé and a spider, a coupé by Viotti, spiders by Boano, Allemano and Zagato (a version of their coupé) and a strange coupé by Vignale (see below).
---
---
Abarth Zagato 750
Powered by a 747cc engine with anything from 41.5 to 47bhp (from the factory, tuners got up to 55bhp) it was designed by Zagato using the mechanicals of the 600. The body was in aluminium which resulted in a much lighter weight, empty it weighed 520kg and was much more aerodynamic as well as having much improved airflow to the engine. It also fetured Zagatos distinctive double bubble roof after which it is most commonly known. Various small changes were made during its short production life.
It first appeared in 1955, entered production in he following year and continued to be built until 1959.
For 1959 the engine got a new twin-cam cylinder head (the resulting power output up to 57bhp), and Zagato revised the body. Most significant changes were the new rear quaterlight windows and the single rear air intake, designed to clear the two twin vertical carburettors fitted between the camshafts.
---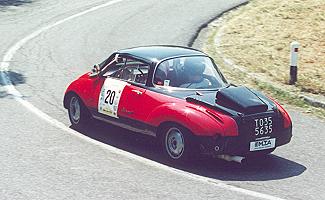 Abarth 750 Sperimentale Vignale
Designed as one alternative for a production model (eventually the Zagato version won the competition) three of these cars were built during 1956/7. The first one was shown at the Geneva Show of 1956 and featured gull-wings, whilst the other two featured conventional doors and many other modifications. The rather unconventional design was by Michelotti with the mechanicals coming from the Abarth 750

---
Abarth 500 cars
Apart from the many 500 derived cars which retained the Fiat bodyshell (see the separate page), Abarth also made a couple of 500 Coupés, one designed by Pininfarina and released at the 1957 Turin Motorshow, and one by Zagato which emerged in 1958. Both cars originally featured the 23bhp 479cc engine, the latter car later getting a 33bhp 499cc unit. The original cars 1840mm wheelbase was retained in both models.
---
Abarth/Alfa Romeo 1000GT Coupé
On the Abarth stand at the Turin Motorshow of 1958 the above car was to be seen. Jointly developed by Abarth and Alfa Romeo it featured a modified Alfa Romeo dohc engine (with a capacity of 998cc and 88bhp) and a tubular chassis, designed by an Alfa Romeo engineer seconded to Abarth for the job. The body was a two-seater built by Bertone, designed by Scaglione. With a wheelbase of 2160mm and a weight of 640kg it was designed for motorsport. Only one example was ever constructed.
---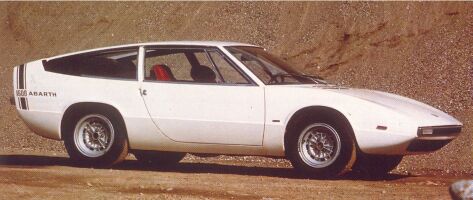 Abarth 1600
A 2+2 coupé based on the mechanicals of the Fiat 850.






---
Abarth OT1300
Launched in 1965, the OT1300 used a Fiat 850 floorpan, an Abarth developed 1300 twin cam engine (derived from that in the Fiat 124) and an all new fibreglass (apart from the first few cars which used aluminium) bodyshell.
An OT1300 was also built using the same bodyshell as the OT1000/2000 (ie a Fiat 850 shell with some modifications) and known as the OT1300/124 (showing the engines source). This used the Fiat 1197cc pushrod unit taken out to 1324cc and producing around 88bhp. This car was also known as the OT1300S whilst a slightly more tuned version (with twin carburettors and a different camshaft) was known as the OT1300SS.
Some cars had an air-intake mounted in a prominent position on the roof, and were known as the OT1300 Periscope, for obvious reasons.
---
Abarth comment form
---
| Main Abarth Page | Historic Abarths (Fiat bodies) | Grande Punto Abarth | 500 Abarth |
---
Copyright © 2000 to 2008 CarsfromItaly