Pininfarina

Born in November 1893, Battista Farina was the tenth of eleven children, and was immediately given the nickname 'Pinin' which means approximately 'baby of the family', a nickname which stuck. Whilst Pinin was very young, Giovanni, one of his elder brothers, became an apprentice to a coachbuilder. He then set up his own workshop, repairing cars and horse drawn vehicles, which went on to become, in 1917, the well known Stabilimenti Farina.
Along with two other brothers, Pinin also went to work for the company, despite his young age, and became responsible for the design and publicity. He met many famous and influential people, and was even offered a job by Henry Ford when travelling in the USA, but opted to return to Turin and get married.
In 1930 Pinin left his brothers company and set up on his own, the Carrozzeria Pinin Farina. He was helped in this move by two people, a rich aunt who assisted financially, and Vincenzo Lancia who, as well as being a partner in the new firm, promised work and also gave moral support. They began with around 90 employees in a factory at Corso Trapani 107, making one-off prototypes and very small runs of 5 to 10 special models for direct sale. Predictably the first cars were mainly for Italian companies, Lancia, Fiat, Alfa Romeo, Isotta Fraschini etc, but 1931 also saw a Cadillac and 1932 a Mercedes Benz passing through their workshops. Around the same time aerodynamics began to emerge as a force and it did not take long for this to influence the work of Pinin. A 1933 Lancia Astura was one of his earliest aerodynamic designs.
The company continued to expand and become more famous in many countries, by 1939 he employed around 500 people and in that year produced 800 cars. The war saw all effort turning to military equipment, ambulances, trucks, aeroplane parts, boats and even cookers. 1945 saw Pinin resuming his work without delay. Despite a fire in 1946 which destroyed the premesis, his creativity was undented, witness the Cisitalia 202 of 1947.
The 1950s saw may significant events for the Carrozzeria Pinin Farina. Work with Nash saw both volume production and a noticeable entrance into the US market, cooperation began with Peugeot and more famously with Ferrari, and in 1958 the company relocated to a new site at Grugliasco, just outside Turin.
Numerous famous models emerged in these years based on the Lancia Aurelia, Alfa Romeo 1900 and 6C2500, Fiat 1100, 1400 and 1900, Maserati A6 and many Ferraris to name but a few. In 1960 alone they produced over 11,000 car bodies, including mass produced bodies for the major manufacturers, small runs of specials and various concept cars and prototypes.
The family name Farina was changed by deed poll to Pininfarina in 1961 and the company name followed suit. Growth continued, with over 14,000 bodies built in 1962 and nearly 20,000 in the following year. By that time the company was employing over 1,600 people.
In 1966 Battista Pininfarina died and control of the company passed to the already well prepared Sergio (his son) and Renzo Carli (son-in-law). The same year saw a separate R&D department being established, including the capability to produce complete prototypes. The aim of remaining at the forefront of design technology saw the inaugration in November 1972 of the Pininfarina windtunnel, the first in Italy and one of the first in the world, which could take a full scale model. With this new facility the 1970s saw a variety of concept cars developed therein emerge, such as the Ferrari based CR25 of 1974. The fuel crisis of those years also saw early electric powered cars being developed.
A steady stream of both prototypes and mass produced cars left the Pininfarina establishment through the 1970s and 80s. Notable amongst the latter category was the Fiat 124 Spider, which began production in 1974 and by 1979 had already seen 150,000 being produced. Other notable designs included the Lancia Gamma (saloon and coupe), Beta Montecarlo, Ferrari 308 and Mondial, whilst the 80s saw Pininfarina diversifying into both construction machinery, buses and other automotive related fields, and new areas unrelated to the car such as sunglasses.
The next major step for the company came in 1982 when the R&D centre was moved to a new, separate location, and became operationally a separate company. This became the "Pininfarina Studi e Ricerche SpA" alongside the already formed "Industrie Pininfarina SpA" which was responsible for mass-production.
The 1980s also saw co-operation with Honda start, whilst for the Italian automotive industry, apart from the Alfa 33 Sportwagon, Pininfarina also penned the slightly more extravagant GTO and Testarossa. In 1987 Pininfarina opened a third site at San Giorgio. Designed primarily to produce the Cadillac Allante it is located near Turin airport in order to ease the transport of the finished bodies to their US destination, done by airlift.
By 1989 the Pininfarina Group employed 1700 people and produced around 30,000 cars. Arguably the latest stage in their development is the production of cars which they have not designed, such as the Fiat Coupé, which demonstrates the diversity the group has achieved. Many more cars have Pininfarina influence in design, development and prototype production than are publicly acknowledged.
Cars (both concept and production, based on Italian cars) by Pininfarina include (this list is not comprehensive) :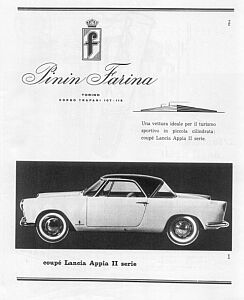 most of the above cars can be seen on this site, either on the concept cars page for the manufacturer on which it was based or the model page for the production cars.
[Alfa Romeo Concepts] [Fiat Concepts] [Lancia Concepts] [Ferrari Concepts]
---
---
Links
The official Pininfarina website
---
Comment form
---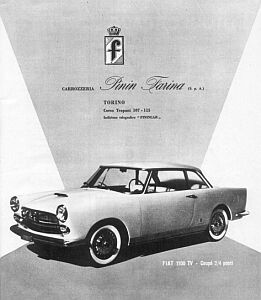 Use the buttons at the top to navigate further, or
---
Copyright © 2000 to 2008 CarsfromItaly