Siata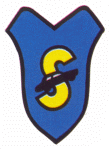 Siata (the name comes from Societa Italiana Applicazioni Trasformazioni Automobilistiche) was founded by Georgio Ambrosini in Turin in 1926 to manufacture tuning accessories for Italian (mainly Fiat) cars. Their cylinder heads with overhead valves (for the 500A) were particularly successful, and they also used superchargers for some applications. A few prototypes were built based on the Topolino including some examples of the 500 Gran Sport (1937) which was a spider with a rocket-like body and a 636cc engine. One of these, with a body by Zagato and driven by Piero Dusio (later to found Cisitalia) won its class in the 1936 Mille Miglia. The Monza (coupe) and Pescara (spider) (both 1939) which were capable of 135km/h and 125km/h respectively. In 1939 a small number of cars called the Amica were built. Designed by Bertone and with bodies constructed by Motto, these were available as a Cabriolet or Coupe.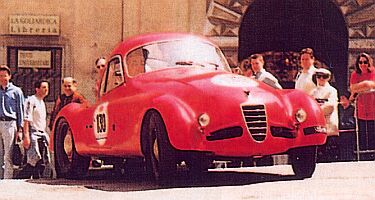 The war saw Siata turn to the production of equipment for the military before the site was totally destroyed by bombing in 1943. Following the war Siata launched an auxiliary engine for bicycles which was an immediate success and at the same time changed the meaning of Siata to Societa Italiana Auto Trasformazioni Accessori. and afterwards production again concentrated on tuning accessories.
In 1949 Siata released the new Amica, followed by the Daina and other road cars (see below). Competition cars were also built, based on both Fiats and their own road cars as well as through co-operation with Abarth. In 1961 the company became Siata Auto SpA. Through the sixties and seventies Siata produced cars based on Fiats. Production stopped in 1970 and they finally succumbed to growing financial problems in 1974 when ORSA purchased the name and all manufacturing rights.
---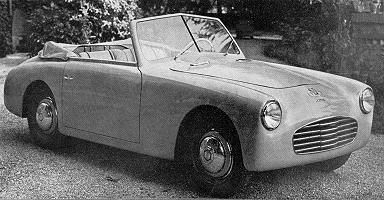 Amica
The Amica '49' (using only the name from the pre-war car) was introduced in 1949. This used a tubular chassis with a body designed by Siata but built by Bertone. The mechanicals came from the Fiat 500B (later from the 500C) including the engine, which was a 569cc four cylinder unit, using the Siata cylinder head, with 22bhp - enough to propel the car to about 100km/h. A Siata 750cc engine with 25bhp was also available. Later came the Amica 51 (in 1951) and then, in 1956, the Amica 56 which used the chassis from the Fiat 600. Some cars were also built for the USA, in which market they used a 721cc Crosley engine.
---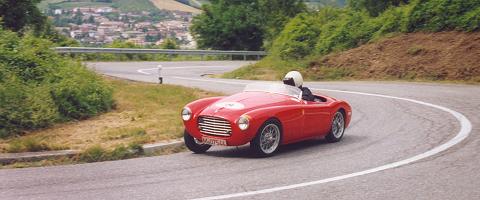 300BC
Around 50 of these cabriolets based on the Amica were built.







---
Daina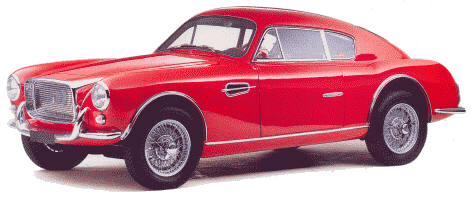 Launched in 1950 to complement the smaller Amica, the Daina was a GT car built both as a coupe and a trasformabile (convertible). The bodies of both versions were by Stabilimento Farina whilst the mechanicals were agian from a Fiat, this time the 1400. The engine was a 1393cc unit with 65bhp and a five speed gearbox. In 1951 the Rallye 1400 model modified the bodystyle to be more similar to the MG TD. The range was further increased with the addition of versions with stretched chassis', a limousine with six seats and an estate version.
In 1952 the design was again changed with the release of the Daina Sport, a two seat coupe and the 1400 Gran Sport, a cabriolet. Both versions were again by Farina and used the 1400 mechanicals and engine, but in the Daina Sport the engine was increased to 1500cc and produced 75bhp. A few cars were also built using American engines, including units from Crosley and Chrysler, whilst the last few production cars had bodies by Bertone. Total production was around 200 cars.
| | |
| --- | --- |
| | |
---
208S
Introduced in 1952 this coupe used the V8 engine from the Fiat 8V together with a body by Stabilimenti Farina (below left). When the latter closed production passed to Carrozzeria Balbo. A spider version was also built, as was a GT saloon with a body by Bertone (below right) and a variant with a Chrysler powerplant. Around 32 examples were built.
---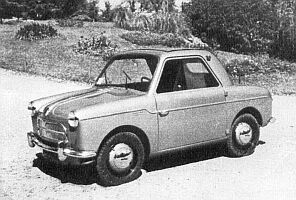 Mitzi
Launched in 1954, the Mitzi was a true 'microcar'. It was powered by a rear-mounted air cooled 398cc (62x66mm) two cylinder engine with 10bhp at 4000rpm. Hydraulic brakes, independent suspension (both front and rear) with torsion bars and a four speed gearbox were also present and the Mitzi could achieve 80km/h and consumed only around 4l/100km. The wheelbase was 1700mm with front and rear tracks of 1120mm. Production was undertaken under licence in Argentina.
---
TS
The Siata TS was a modified version of the Fiat 1500, with twin carburettors it had 94bhp plus a variety of other small changes such as two-tone bodywork etc. Siata also produced a coupe version with a bodywork by Michelotti, produced also in Germany at Fiats Heilbronn factory. In 1964 the TS Coupe gained a 1600 engine (with 106bhp) a new front end with square headlights and some other small design changes.
---
---
Spring
Originally a prototype was built using Fiat 500 mechanicals, but this was not well received and so the next development, in 1965, used the 850 as a starting point. Production started in 1967 and continued until 1970, by which time around 3,500 cars had been built.
A two seat convertible car, the Spring had the 843cc engine from the Fiat 850, with 36bhp. Physically, the Spring had a wheelbase of 2027mm and a weight of 720kg. A maximum speed of 125km/h was achievable.
In 1969 the engine was reduced in size to 817cc in order to fall below the size requiring emission control equipment, and a variety of details were added to the cars such as locks, seatbelts and seats incorporating headrests. Changes were made to the rear lights, windscreen, brakes, dashboard and instruments.
---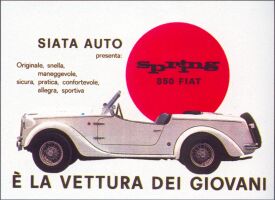 Links
An Italian website with some information about Siata
A Siata Spring website, including a register
A Siata Spring Owners Club website

---
For more pictures of various Siata cars, see our Giro Storico di Lombardia, Mille Miglia and Trofeo Aido picture galleries.
---
Siata comment form
---
Your Comments
If you have one of these rare cars, please send us your comments....
---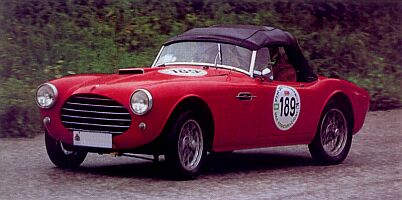 Use the buttons at the top to navigate further, or
---
Copyright © 2000 to 2008 CarsfromItaly