Ghia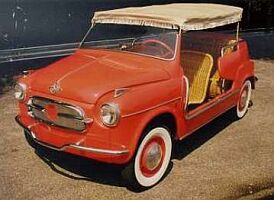 Born the third son of a clerk on September 18th 1887, Giacinto Ghia started work at the early age of 13 due to the poor financial situation of the family. Starting in the plant of a coachbuilder, like most boys he was fascinated by the first primitive automobiles which started to appear in Turin around the turn of the century.
After gaining some experience, he sought new work and found a position at Rapid. Being intelligent he was rapidly promoted to the position of inspector where he remained for a few years before moving to Diatto where he took a job as test driver. During a relatively minor accident whilst executing his job the unfortunate Giacinto broke both his legs. Although he healed relatively quickly, he could not return to his old job so he decided to set up his own company, with a relative of the Ceirano brothers, Garaglio, as a partner.
Establishing Ghia and Garaglio in Via Pelitti they began producing bodies for Diatto, Itala and Scat. A change of name to Carrozzeria Ghia and Actis followed a change of partner, but Actis did not stay long either and in 1926 the firm finally became Carrozzeria Ghia. Giacinto's brother-in-law, Giorgio Alberti, joined the firm as a partner and remained for many years.
Various outings in motorsport saw their light racing cars gaining some notoriety, especially the Fiat 501S Torpedo model. The later 1920s saw Ghia produce a number of cars according to designs by Count Mario Revelli de Beaumont, one of the most famous names of the time who worked as a freelance designer.
The early thirties saw Ghia producing the first few Balilla Coppa d'Oro before Fiat took the design in-house and mass-produced it. Aerodynamic experiments also began to emerge, including some spectacular Lancia Augusta based examples.

All went well and the firm continued to produce various cars for the rich and famous until the war arrived. The usual military production took over at the Ghia factory, alongside which was produced a bicycle. In 1944 the establishment was almost completely destroyed in an air-raid. Shortly afterwards Giacinto became ill and after only a short period passed away. He was followed by his mother and not much later his wife.
This left the company in the hands of numerous inheritors, his brothers ad sisters through his mother and his wifes family through her. Giorgio Alberti retained his share of the company, but Giacinto had already nominated his successor, Mario Felice Boano. Invited by the Ghia family to take over the reigns of the company, Boano closed his own workshop and took the job.
The new company, 'Successori Ghia - Alberti e Boano' like most others, faced many problems in the immediate postwar period, but managed to rapidly regain their position, exhibiting several cars at the 1947 Monte Carlo Concours d'Elegance. The same year saw Boano finally buy Alberti's share, thus making himself the sole owner of Ghia.
Around this time Viotti, a friend of Boano, suggested that they should employ a young engineer, Luigi Segre, to handle their commercial interests. This was done with such success that later, when Boano was considering his withdrawal from the company, he gave his son 50%, Segre 30% and another collabrator, Luigi Sibille, 20%.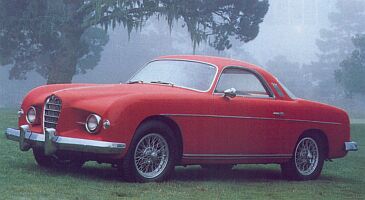 The late 1940s saw Ghia successfully launch and sell the Gioiello series of cars, sporty saloons based on Fiat 1100, Lancia Aprilia and other, whilst probably more significantly also saw the start of a relationship with Chrysler. This latter blossomed and went on to occupy a significant amount of Ghia's time. This period also saw Ghia set up a joint venture company, Ghia-Aigle, in the Swiss town of Aigle, with a Swiss industrialist as a partner. Ghia only remained involved for around a year before withdrawing, although the company continued alone.
Notable designs from these years were the Lancia B20 Aurelia, designed and initially built by Ghia before being given to Pininfarina due to their greater manufacturing capacity, and the Alfa Romeo Giulietta Sprint, on which Mario Boano worked with Scaglione, Bertone's chief designer. Again due to Ghia's poor manufacturing capacity the contract to build went to Bertone. Other designs included cabriolet and coupé variants of the Fiat 1900.
Mario Felice Boano had one son, Gian Paolo, who entered the firm quite young. He had hands-on training of all the aspects of work until in 1951 he finally produced his own cars, the B Juniors based on the Alfa Romeo 1900, Fiat 1400 and Lancia Aurelia. He also played a part in designing the more famous Alfa Romeo 1900C Coupe, where design elements from the Chrysler connection also appear.
More famous still from this period was the VW Karmann-Ghia coupe, designed by Ghia and built by Karmann in Germany. Entering production in 1955 it went on to be produced virtually unchanged until 1974. A variety of other proposals for the German company were made over the years, unsuccessfully.
1953 saw a major development in the ownership of the company as an argument between Mario Boano and Luigi Segre blew out of all proportion and the latter bought the complete rights. The Boanos went on to work independently but soon afterwards went to work for Fiat, setting up the Centro Stile Fiat and working there until retirement. Back at Ghia, Segre turned to a friend and colleague, Giovanni Savonuzzi, to fill the position of technical director, or chief designer.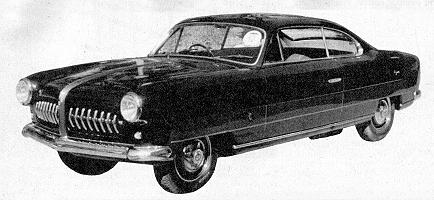 Expansion was also on the cards as in 1954 Ghia formed a joint venture company with the smaller Monviso. The latter, founded by Casalis, had mainly produced 'personalised' versions of mass production cars such as the Fiat 600. Later the two companies merged, bringing a much needed boost to Ghia's production capacity.
The arrival of Savonuzzi, who had already worked for Ghia as a consultant, brought a new direction to their designs, the Supersonic series of cars. Based on Fiat 8V and other chassis, these also led to a concept car for Chrysler, the Ghia Adventurer II. His intimate knowledge and understanding of aerodynamics, Savonuzzi had been an aircraft engineer earlier, enabled Ghia to produce a variety of aerodynamic concept cars, mainly for Chrysler.
1956 saw another young designer, Sergio Sartorelli, join the design team at Ghia, working alongside more established names such as Coggiola. When Savonuzzi left a year later to take up a position at Chrysler in the US the main position again fell vacant. This time Ghia bought Frua and Pietro Frua got the job. Both companies (Frua was used as a trademark by Ghia) moved into a new premesis, but the relationship did not last long as Pietro Frua resigned very shortly afterwards. It was a bitter split which ended in court.
This time Ghia used in-house talent to fill the vacancy, both Coggiola and Sartorelli, the former responsible for prototype development and production and the latter for styling, with frequent overlap. In 1959 they were joined by a new recruit from the US, Tom Tjaarda. A young architect, he learnt rapidly from the established pair.
In 1960 Ghia jointly set up OSI, covered on a separate page, whilst 1961 saw Tjaarda resign, a decision usually attributed to friction with another American designer, Virgil Exner Junior (the father had been the main Chrysler designer and thus had worked extensively with Ghia). The Fiat 2300 Coupe emerged in 1962 whilst the following year saw Segre die and Sartorelli resign. Both a spider and a hatchback/estate version of the Fiat 2300 were also built, but remained one-offs.
With the death of Segre there was no clear succession, his sons still being much too young. His widow put Giacomo Gasparado Moro in chage, but without Segre's personal connections clients began to withdraw rapidly. Gino Rovere, a well established character in Italian and international automotive circles, was persuaded to take on the job as chairman, whilst the Segre family sold the majority of their stake to Raphael Trujillo, son of the Domenican dictator. Unfortunately less than a year later Rovere passed away, and Trujillo had little interest in Ghia, leaving Moro with everything to do.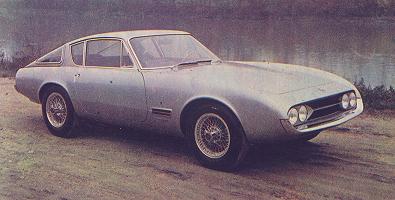 The succesful Fiat 1500 based GT coupe program was drawing to a close and the relationship with Chrysler was winding down, but the Fiat 2300 based G230, despite being of no interest to Fiat, led to a small run of commercially successful Chrysler Ghia G450S cars. In this difficult period the Exners, now running an independent design studio, also used Ghia's facilities.
1965 saw De Tomaso enter the list of clients of Ghia, and was to become one of the most significant. His forst road car, the Vallelunga, had been designed and a prototype built by Fissore, but various reasons led to De Tomaso splitting with that firm and moving to Ghia.
1965 saw more changes as Coggiola resigned, leaving Sapino in charge of design. This lasted for a short period, since later that year Giorgetto Giugiaro was employed as head of design. The latters influence burst upon the world in 1966 at the Turin Motorshow with two De Tomaso models, the Mangusta and Pampero, the Maserati Ghibli and the Fiat Vanessa.
In 1967 De Tomaso, financed by family connections in Rowan Industries (which became the owner), took control of Ghia. Trujillo had never been interested in the company and various rumours surround his need for cash. Alejandro De Tomaso personally took control and Moro and his deputy Capitani departed. Giugiaro resigned but continued as a consultant for another two years.
Tom Tjaarda returned as Giugiaro left, in 1969, the same year that Ghia bought Vignale, whilst the following year saw Ford acquire 84% of the combined Ghia/Vignale from Rowan.
The lesser known Lancia Marica and Serenissima were followed in 1971 by the savior of Ghia and De Tomaso, the Pantera. Ford, however, had their own ideas and Alejandro his own which led to yet another split. In January 1973 Ford completed the purchase of the remaining shares from Rowan Industries of Ghia/Vignale/De Tomaso, whilst Alejandro went on to occupy himself with his recently obtained Maserati.
Ghia was subsequently fully absorbed into the Ford corporate organisation, the name later being used to denote a higher level of trim on otherwise standard cars. The studio continued to produce a variety of concept cars and prototypes for its parent company.
---
---
If you know of any links relevant to Ghia please send them in. Thanks.
---
Comment form
---
See our picture gallery index for images from museums, motorshows and events.
---
Use the buttons at the top to navigate further, or
---
Copyright © 2000 to 2008 CarsfromItaly